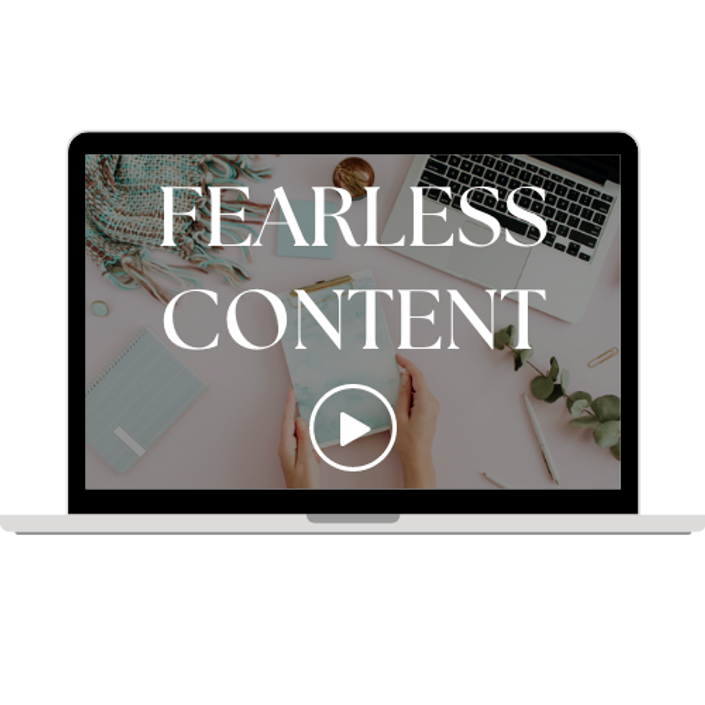 Fearless Content
A 4-Week Program to Unlock Your Best Content, Uplevel Your Brand and Create Profound Impact
You don't need to spend another minute creating content that's not aligned with your soul!
Not being clear on your niche, passion, platform, brand and content goals? Creating too much content and feeling burned out? Or feeling stuck and lacking clarity? Doubting your skills as a content creator? Something just doesn't feel right when you sit down to write/record/design/etc.?
If any of these sound familiar, I've been there.
I pushed myself to produce and publish content.
I thought longer articles and publishing often would help me get results. I thought I needed the perfect email templates.
I created products without feeling like it's on the right topic or in the right format.
I had projects that took hundreds of hours but didn't grow my audience or brand. I wasn't happy but kept putting in the long hours.
I wondered why things seem so hard in my business while all other content creators seem to be taking it easy and creating content that just feels aligned and is so magnetic.
I relied on the traditional goal setting and content creation approach but it simply didn't create the epic results I was going for and the ease and flow I wanted in my business.
---
Let me guess…
You're a lifelong learner and are always looking for progress. You read great stuff, probably underline what you love the most or take notes. You follow successful people online and learn from them.
You have a message to share with the world and maybe you've even started sharing it but you feel like you're all over the place.
You aren't where you wanna be. Most importantly, you aren't where you know you could be, physically, mentally, emotionally, spiritually.
There are mental blocks. Negative and disempowering stories you tell yourself.
You're standing in your own way. You're producing content that doesn't serve your audience and isn't aligned with your most authentic self.
You haven't become the empowered content creator you aspire to be. You don't create bold content and share it knowing it will attract the right people and will grow your brand.
Your brand and business aren't nowhere near the abundant and aligned reality you sometimes imagine.
But they could be.
Imagine if your reality could look like this: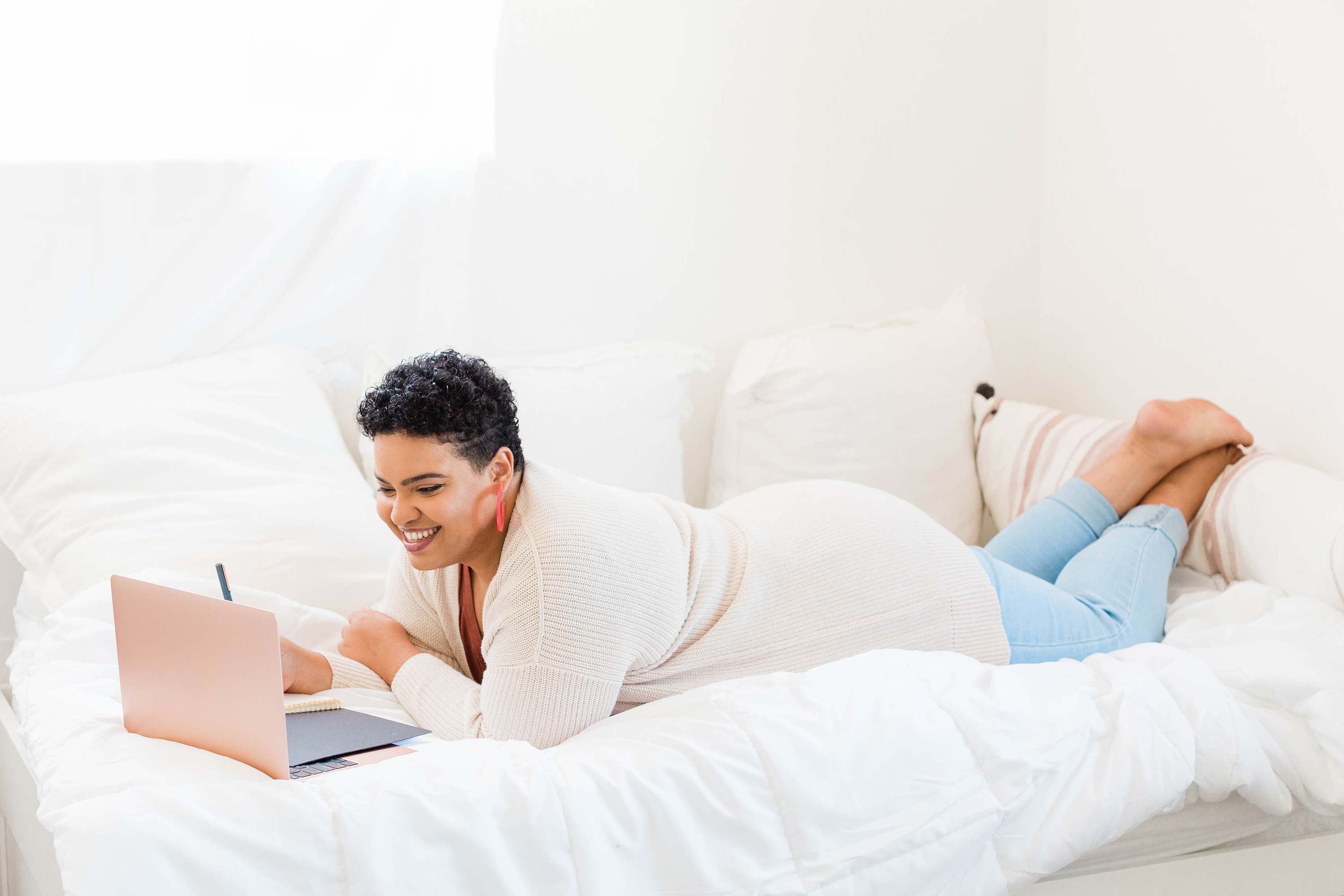 You spend less time creating content and yet you feel more accomplished than ever.
You don't try hard and it even looks like you aren't hustling for your goals, yet you start attracting opportunities, people and things that bring you closer to exactly where you need to be.
The overwhelm is replaced with ease and flow.
You slow down, trust the process, let go of the need to control how things will happen, and yet - things are happening for you in the best way possible. It feels right and aligned with your soul.
You release what's no longer serving you, and are freer than ever to find your true passion in life and create content around it that will magnetize those you're meant to help.
You don't need to replicate other people's content strategies and effortlessly create your own.
You have powerful stuff to share with your audience, package your knowledge and create new products/offers with ease, and grow your business in a way you couldn't have planned.
You don't doubt your abilities and don't second guess your content before sharing it. You know it's aligned with your true self and you're excited to get it out there, regardless of what will happen next.
You grow your brand and have fun along the way.
Listen up, girl. This isn't a 'what if' reality. It's something you can choose right now. Here's how.
Introducing Fearless Content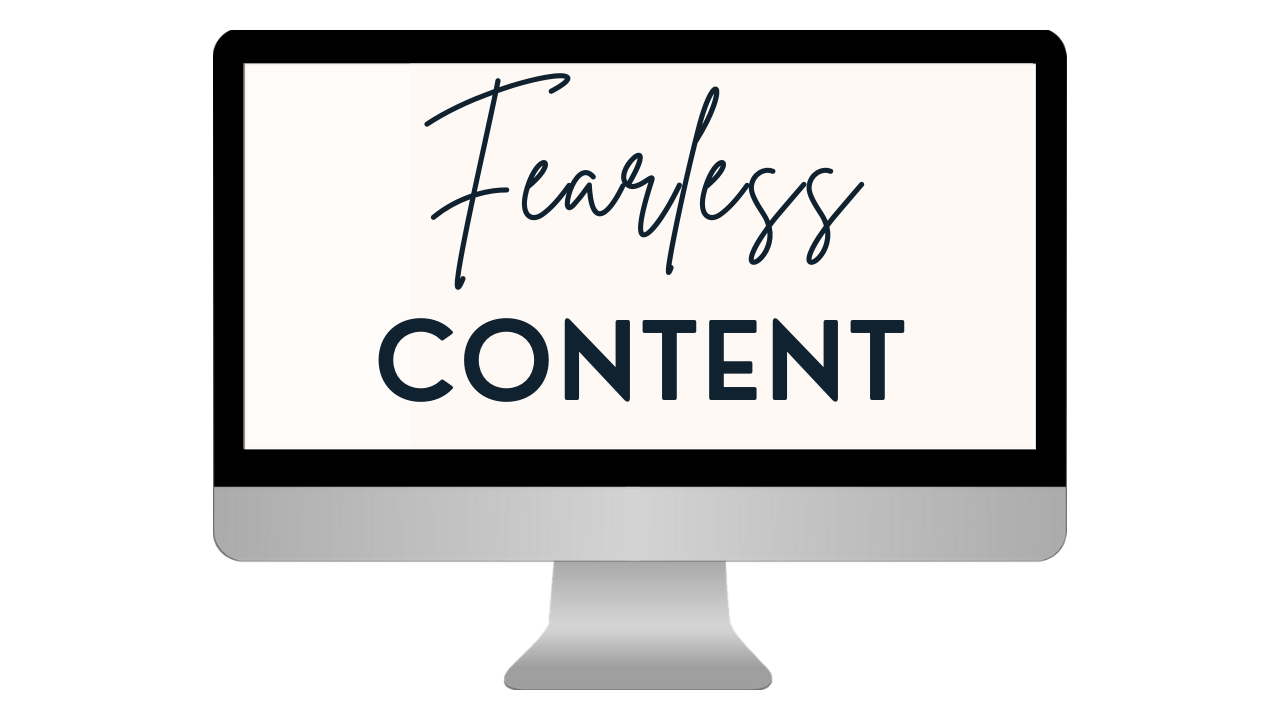 Fearless Content is a 4-week program that will help you get clear on what's no longer serving you and release it energetically, re-organize your whole business from a place of abundance, and achieve radical alignment in your content creation.
I combined content creation and branding with personal growth and spirituality to create a 4-step formula for Aligned Content Creation:
Release (limiting beliefs, old mindsets, ego desires, wrong platforms, etc)

Define (passion, content format, what's best for you and your brand)

Align (use the powerful principles of your Human Design to create radical alignment in your biz)

Create (your best content is ready to be created with ease)
Let's take a look inside the program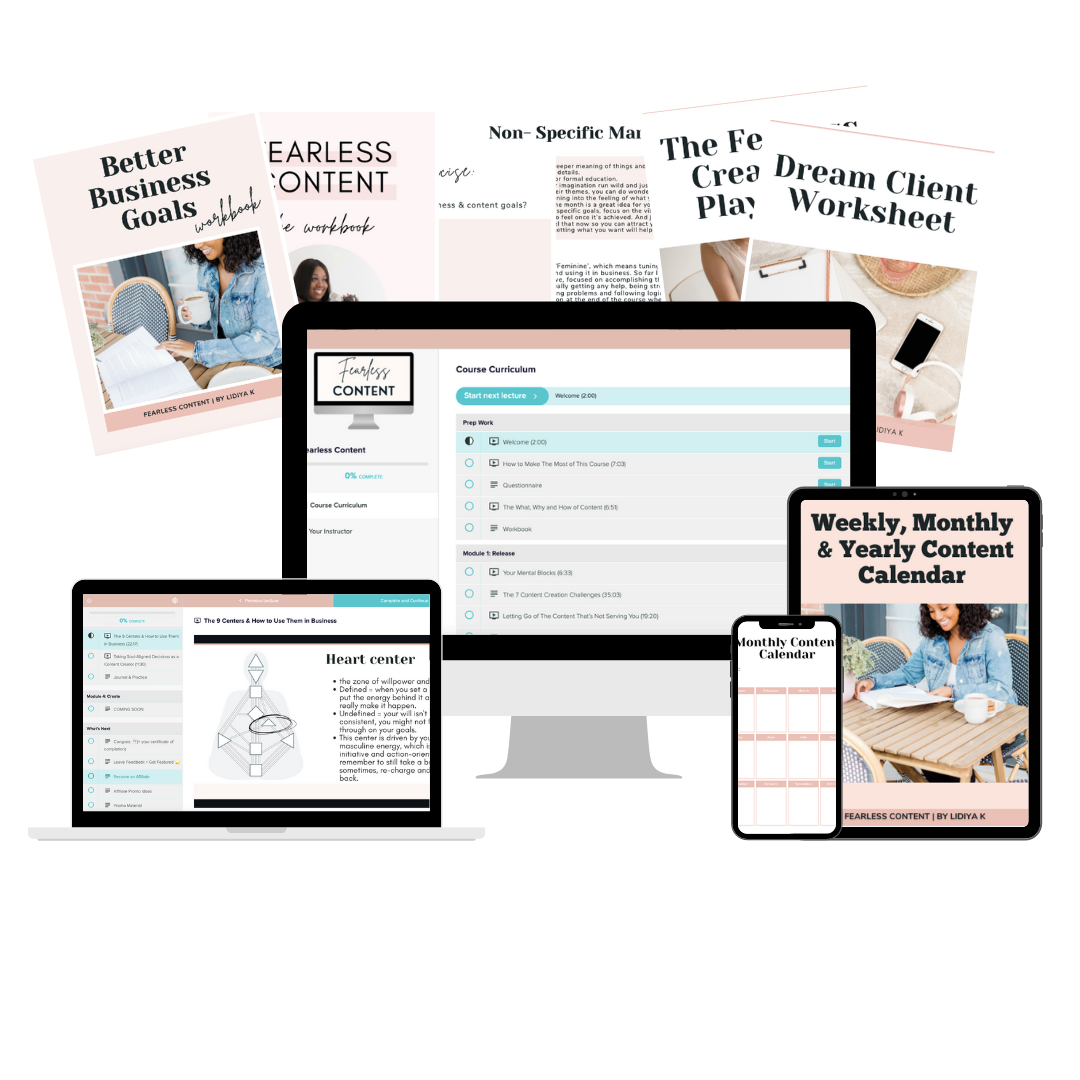 Wondering what makes Fearless Content different than other programs?
You'll learn how to create a content creation process aligned with your true self thanks to Human Design.
All through my experience after 7 years of publishing content online and experimenting with different formats, platforms, niches, passions, audiences, goals, business models.
Here's what you'll learn in each module of the program:
Week 1: Release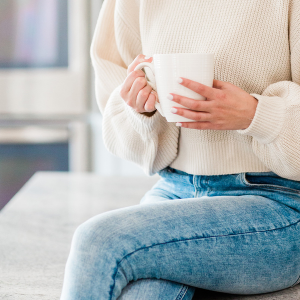 In the first module, you'll find the mental blocks that keep you stuck, work on them and get out of your own way.
You'll see what exactly you need to release and how to do it through my favorite practices.
Every module also goes together with homework and journal prompts.
Week 2: Define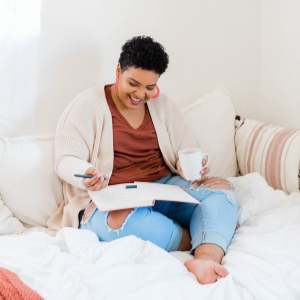 Next, you'll find some clarity and define your passion, your favorite topics, the best platforms and format that work for you and for the successful business and brand you're about to manifest.
Add to that the exercises I've included to help you discover your dream client, zone of genius and your deep Why.
Week 3: Align
It's time to add some magic to your content creation process. Here, you'll learn what Human Design is and how it works, how to find yours and act in alignment with it.
I'll show you how to not just get into the right energy to create your best content but set business goals in a whole new way as well as take soul-aligned decisions as a content creator.
Week 4: Create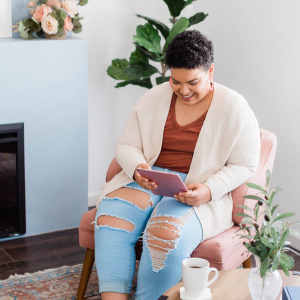 Finally, in Module 4 I teach you how to show up for your audience every week, create a simple but effective content strategy, have a publishing schedule, create more content in less time, make it magnetic, promote it with integrity thanks to the Soulful Marketing Formula I share, build your first sales funnel and create strategic content for each of its stages.
"After taking Fearless Content, I felt more aligned and could actually begin creating content with ease."
Kanika Batra, CEO, Filmmaker, Writer, Actor, Speaker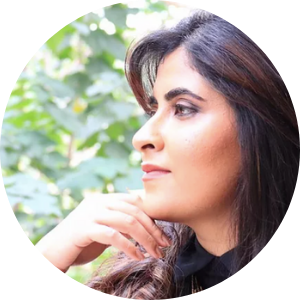 "I was looking for a course that could help me with some direction and actual action steps to align my content and my branding, and felt that Fearless Content would be the right fit because I know that Lidiya would provide value above and beyond.
This program was instrumental in relaxing my pressure with finding a niche, and I'm more clear now about the first course I would like to build.
Module 1 of Fearless Content and the journaling made me think a lot.
Thanks to Module 2, I reworked my entire homepage, About section and blog categories. The lessons helped me define 'who' I was helping, with 'what' and 'why'.
I also started working on my book and have gained so much momentum! I think the book was inside of me, and Fearless Content helped me unlock the clarity to let it flow.
The journal prompts in the workbook helped me with a deeper understanding of why I'm doing what I'm doing, as well as with how to find alignment between the coaching/course creation aspect and the blogging aspect of the business, so that they both complement each other.

Fearless Content is a light, simple, and easy to follow course that can have a deep impact. It will help you sort through the cobwebs in your mind, and find clarity with what you have to offer the world.
It will also help you meaningfully align what you create, with who you are, your values, what you stand for, and who you'd like to serve. It's a great course to do before you start or get deeper with creating content, and can help with course correction or more clarity.
I thought the division of topics was very well laid out. Easy to understand and implement. I liked how the videos worked well to listen to, and the transcripts worked well to absorb what you heard.
Thank you for all the genuine value and in depth information and insight you provide through your courses, Lidiya!"

I heard you like bonuses...
Here's what else you get access to once you enroll in the course:
#1: [PDF] 70 pieces of content you can plan in 1 hour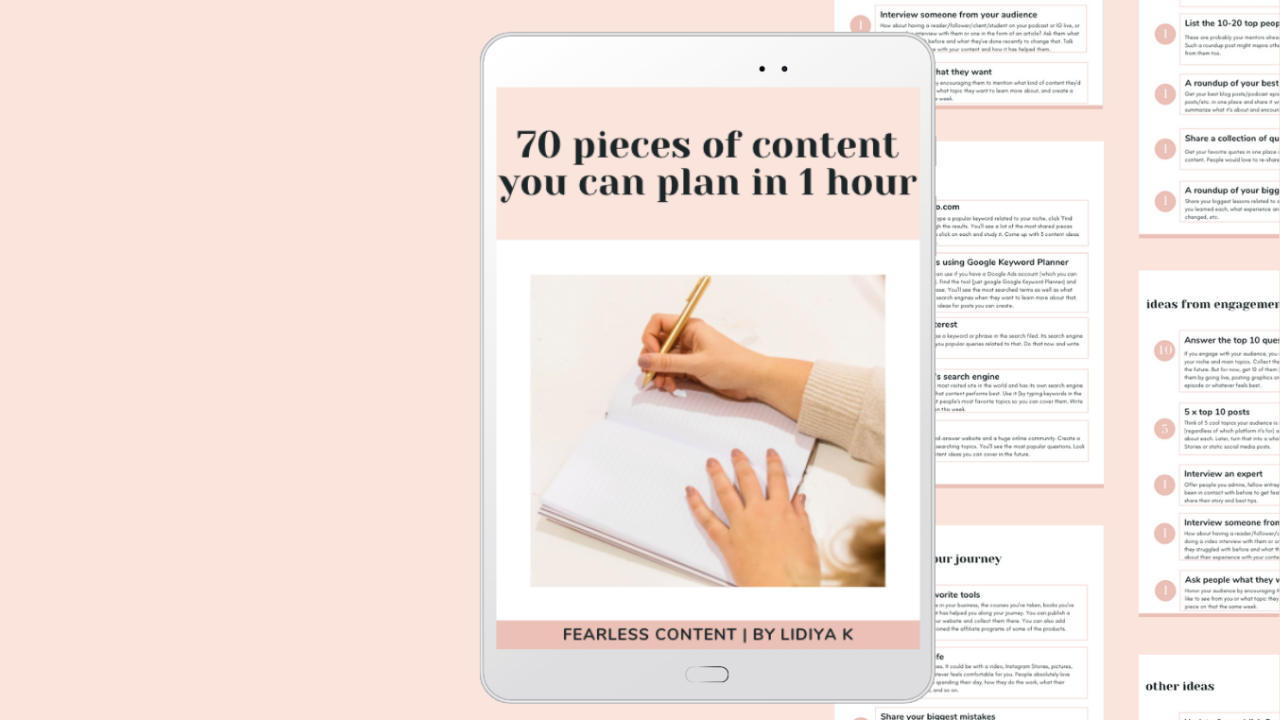 #2: [Bonus Training] How to Align Your Business with Your Menstrual Cycle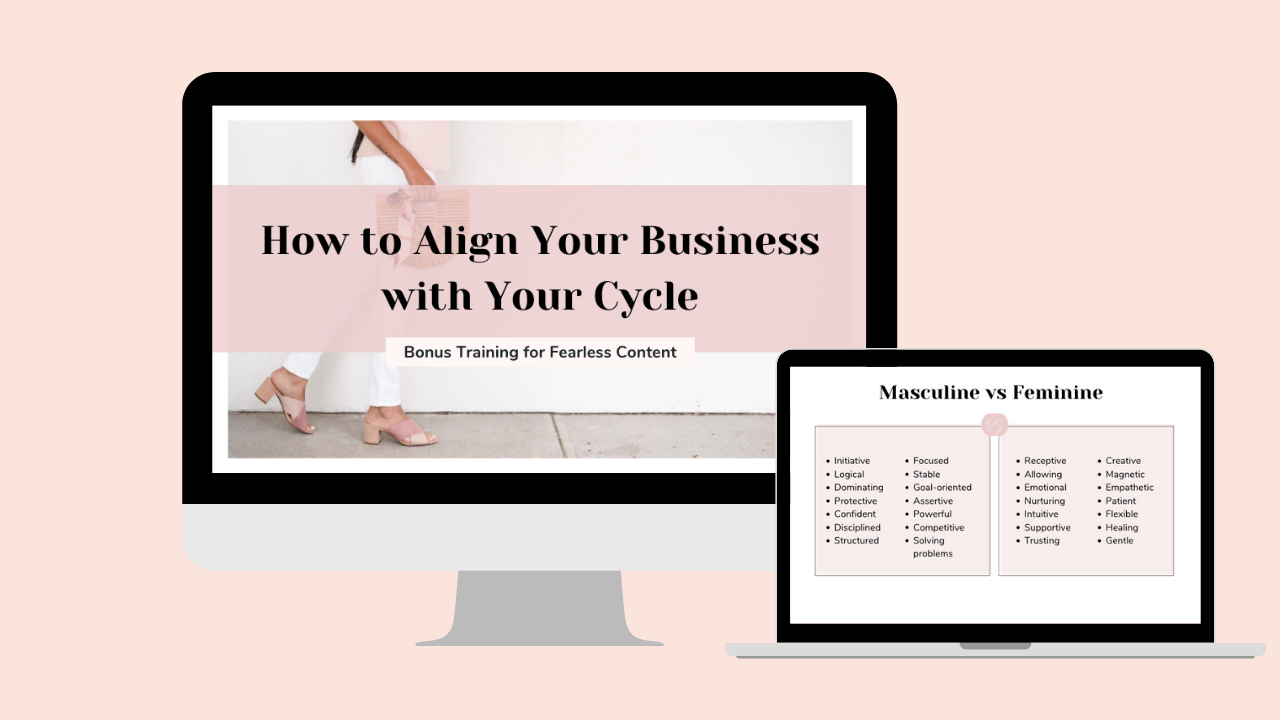 #3: [Bonus Lesson] Overcoming Imposter Syndrome as a Content Creator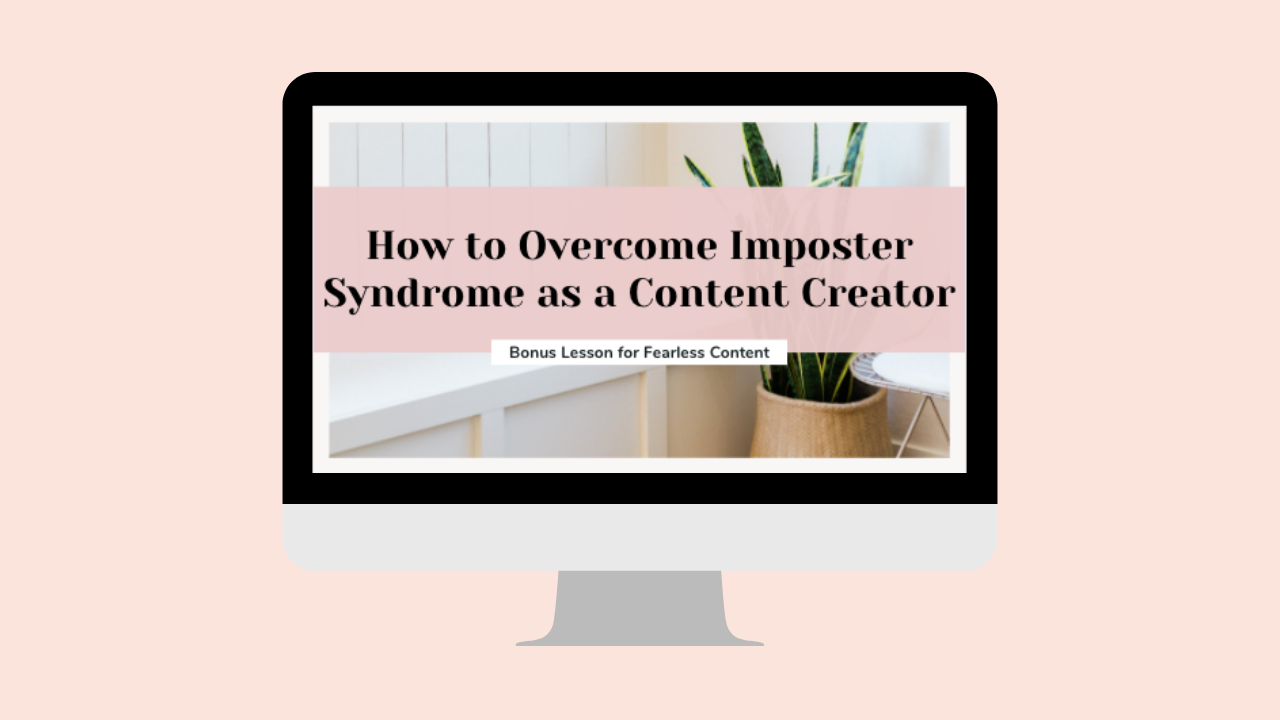 "Your content is your legacy, and this course will walk you through creating content easily, lovingly, powerfully and with profound impact."
Ayoola Kaffo, The Success Feed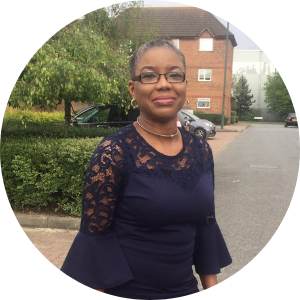 "The prep work leading up to the course helped me to identify the barriers I wasn't even aware of. Being relaxed, happy and joyful about who I am and my passion enabled me to write and create from a place of love and not fear or doubt.
Before Fearless Content, I had doubts about the impact my content is making, was unsure about the topics to write about and did not feel totally confident about my content and brand.

Now I embrace my uniqueness and individuality and I allow it to show up in my creative work.

One of the highlights from the course is "it's not what you are doing it's who you are being".
Module 3 on human design really dealt with your true nature; and it was this section that helped me understand how to live and work strategically. Knowing my energy type is helping me when taking action and making decisions.

Fearless Content is loaded with everything you need to become a better content creator. Your content is your legacy, and this course will walk you through creating content easily, lovingly, powerfully and with profound impact.
Thanks Lidiya for the great work that has gone into producing this masterpiece course. I am truly blessed by it and really grateful."
"I LOVED the human design section, as well as the templates provided for creating your actual content strategy."
Michelle, Let's Live Inspired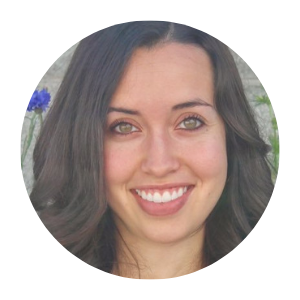 "Before taking Fearless Content, I felt a bit lost, like I was second guessing every single move I made & doubting whether or not I was moving in the right direction.
Thanks to what I learned in the course, all of the pieces of the big picture started to come together. It gave me much needed structure so that I could feel confident and strategic in the answers I already had within me.
Yes, there is a lot of work ahead of you when you are a content creator. But it feels so daunting if you're changing your strategy week after week.
Fearless Content provided me with the clarity & strategy to trust myself and believe in my abilities so that I can approach the hard work ahead as my best self.
I LOVED the human design section, as well as the templates provided for creating your actual content strategy.
Lidiya has a gift for taking complex topics and presenting them in such a clear, actionable way.
Fearless Content is very thorough -- it gets into everything you would likely need some clarity on when it comes to the content creation process (in all forms) for your business. But it also conveys all the information in such an actionable way.
If you want to save yourself a lot of time and a lot of internal struggle (doubting yourself & your abilities) and create content that makes you feel alive, inspired, and is well received with your audience, this course is amazing! Well worth it.
An added bonus, is that Lidiya is such an authentic, genuinely helpful person. Taking her course gains you a brilliant and lovely mentor which is a bonus you can't put a price tag on!"
Hey, fearless! I'm Lidiya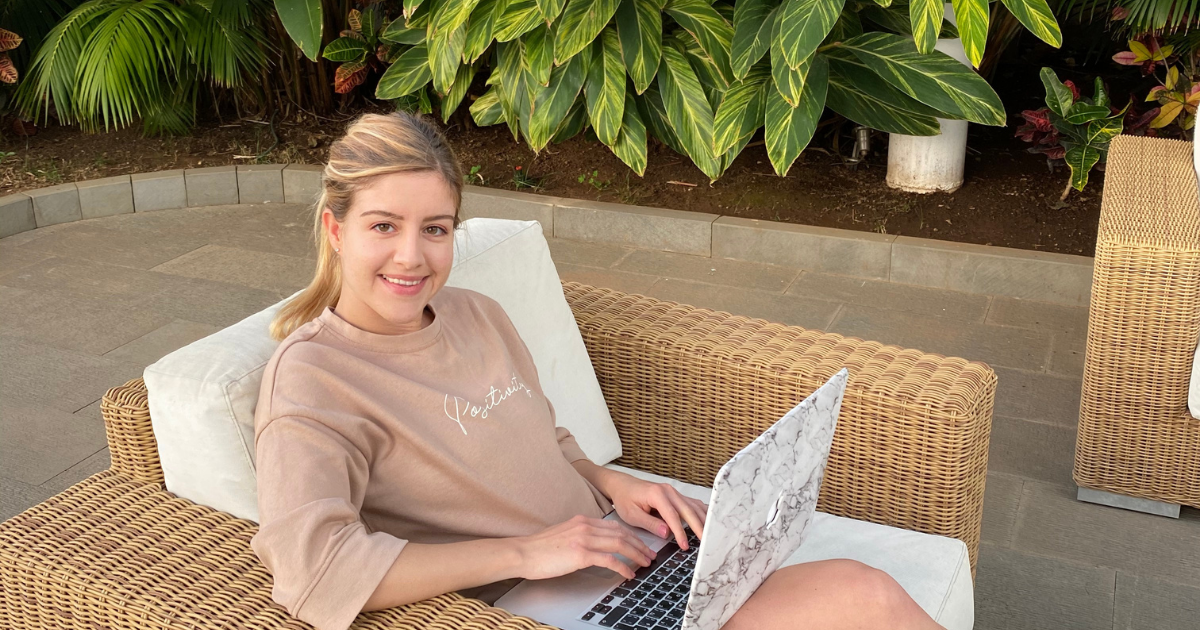 I'm a blogger, course creator and the founder of Let's Reach Success where I help badass women just like you build an abundant, value-driven business so that you can become financially free and play by your rules because this is the most powerful way to live a fearless life and serve your purpose.
I've been named one of the top 10 course creators and experts to watch in 2021 by Yahoo! Finance, been featured on TIME magazine, Thrive Global, Disrupt Magazine, and more.

With the content on my blog and the courses I create, I share the steps to ditch your limiting beliefs, unleash your potential, start that side hustle, grow it strategically, and use that income to live your best life & be unapologetically confident!

I've been in business for as long as I can remember and content creation is my jam. I can't wait to show you how to make magic with yours too and turn it into the biggest asset of your brand and business.
Frequently Asked Questions
When does the course start and finish?
The course starts now and never ends! It is a completely self-paced online course - you decide when you start and when you finish.
How long do I have access to the course?
How does lifetime access sound? After enrolling, you have unlimited access to this course for as long as you like - across any and all devices you own.
What format is the content delivered in?
This is a video course. You'll also find transcripts and workbooks.
Are refunds available?
Yes. If you complete the course and take the steps but don't see results, you can email us at lidiya [at] letsreachsuccess.com within 30 days for a full refund. However, you also need to show proof that you actually gave the strategies covered in the course a chance.
Don't let another year go by without manifesting your dream business and becoming your most abundant and aligned self!
Here's some more feedback from students of Fearless Content: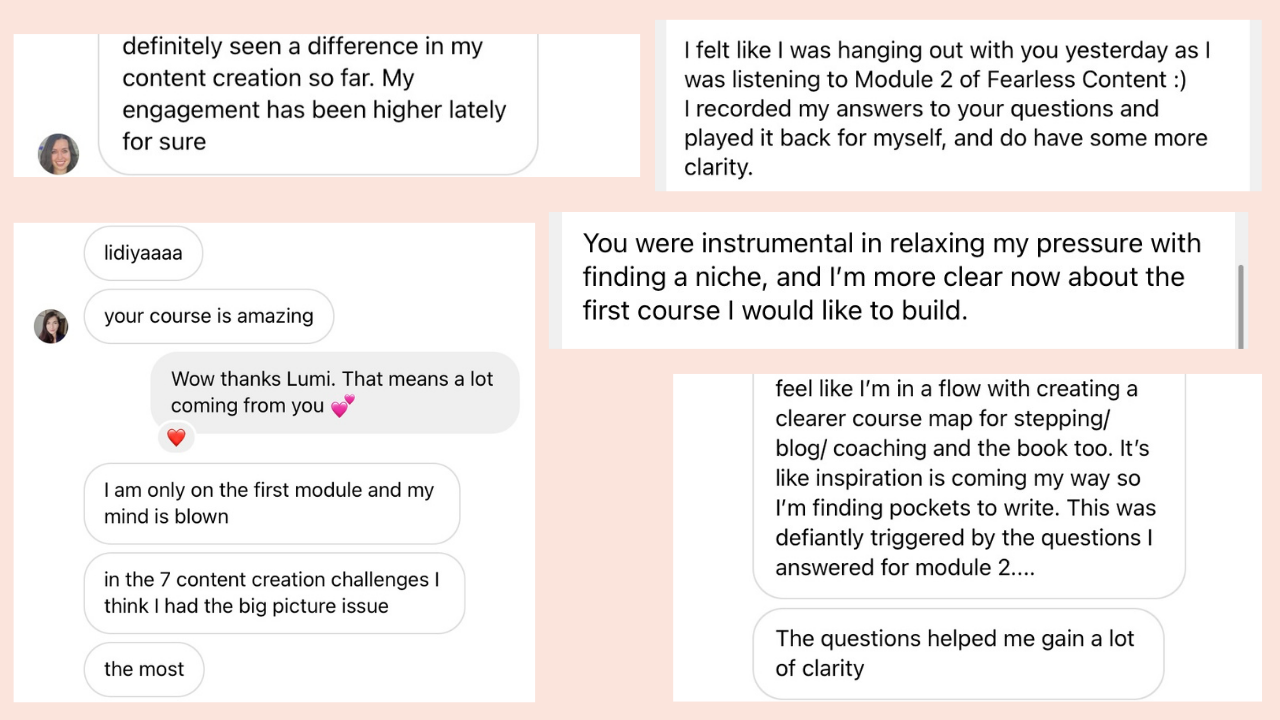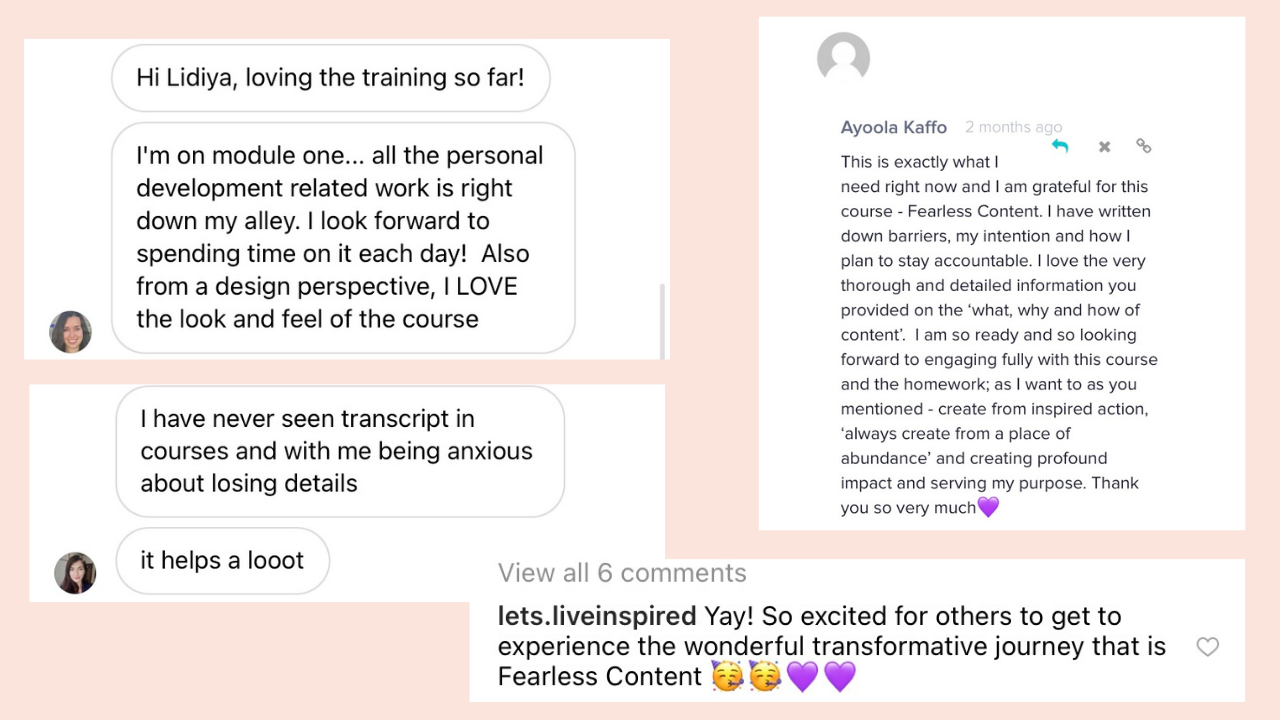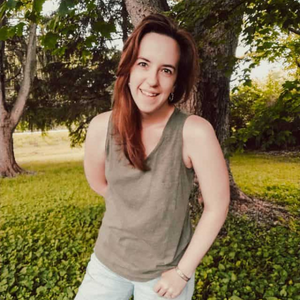 "Fearless Content will change your whole outlook on life and business."
I always felt like I was trying to do what the "gurus" said. But thanks to Fearless Content, I feel confident in creating the content and brand I feel led to. I trust my instinct in MY business and to create in the way that feels right instead of pushing to create content I hate doing.
Being a very factual & tactical person, giving the time to the mind work is hard. But I think that should be worked on from the beginning, BEFORE the business tactics. This course helps you do just that.
I greatly appreciate Lidiya's program and will be coming back to it often if I feel stuck.
- Leah Lynch of Leah-Lynch.com