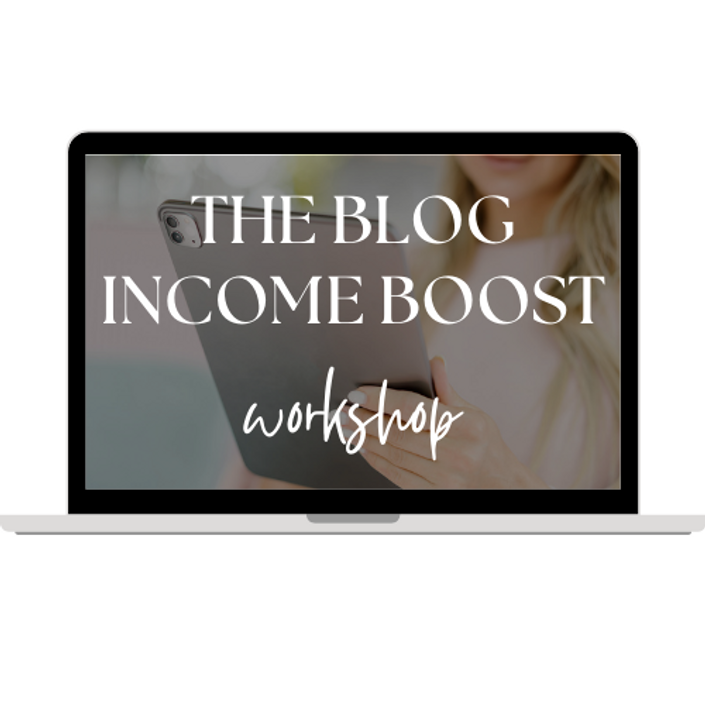 Blog Income Boost [Workshop]
7 things you can do THIS WEEK to take your 1-year old blog to 5 figures
Your blog has more earning potential than you think and it's high time you tapped into it.
Did you work hard on your blog for a few months only to lose motivation that it can ever be profitable and leave it behind?
Are you putting out content consistently and yet not seeing your income grow?
Do you have traffic but no idea how to monetize it?
What if you didn't have to grow and optimize your blog anymore and can start earning from it (or grow your existing revenue) with just a few small tweaks?
Not a fan of ads and looking for different ways to monetize?
Do you feel like your blog has a lot of earning potential but you simply don't know where to start or what to do next?
Are you tired of the generic monetization advice for bloggers out there that only tells you to display ads and promote as many affiliate products as possible?
If any of these sound familiar, I've been there.
I made all the mistakes a blogger can make and tried all the strategies (in terms of marketing, optimization, monetization, etc.)
I thought that everyone else in the industry was successfully running a profitable blog but me. And to some extent, I didn't feel worthy of that income and thought my blog wasn't either.
After years of confusion, slow progress and countless hours of research, things changed for me.
Now that I've been a full-time blogger and have enjoyed the many benefits that come with the lifestyle and this line of work for a long time, I realized:
🌿 I could have monetized from the very beginning.
🌿 I could have stopped all the activities I invested time and energy in, and focus only on the revenue-generating ones.
🌿 Business gets to be fun and easy.
🌿 Growing a blog is something anyone can learn how to do.
🌿 You don't need to be a marketing and sales expert to earn 5 figures from your blog every year.
🌿 There are countless ways to monetize your platform.
🌿 You can do less, and yet earn more.
Isn't that awesome?
Now, I get to show aspiring, new and intermediate bloggers how to do that faster while avoiding the overwhelm and fear of monetizing.
If you too need some guidance and want to stop leaving money on the table, but also don't have the time for big courses, this workshop is for you.
Introducing Blog Income Boost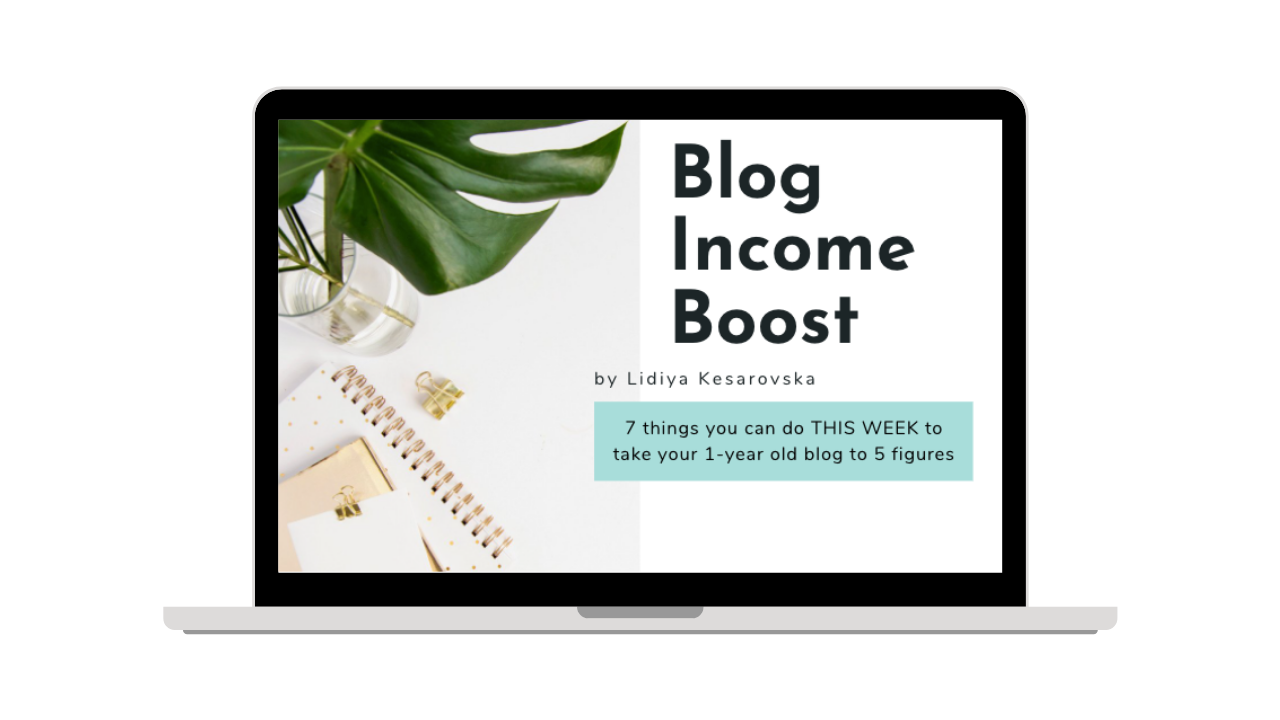 Blog Income Boost is an online pre-recorded workshop. You'll walk away with 7 revenue-boosting things you can do on your blog RIGHT AWAY to get closer to that 5-figure income.
This is for the blogger who's tired of feeling like nothing is working, waiting months to build a new income stream, not making the most of the amazing platform they've created, and not being their own boss yet.
Ready to dive into the revenue-generating changes you can implement right away to monetize your blog + get lifetime access to the workshop?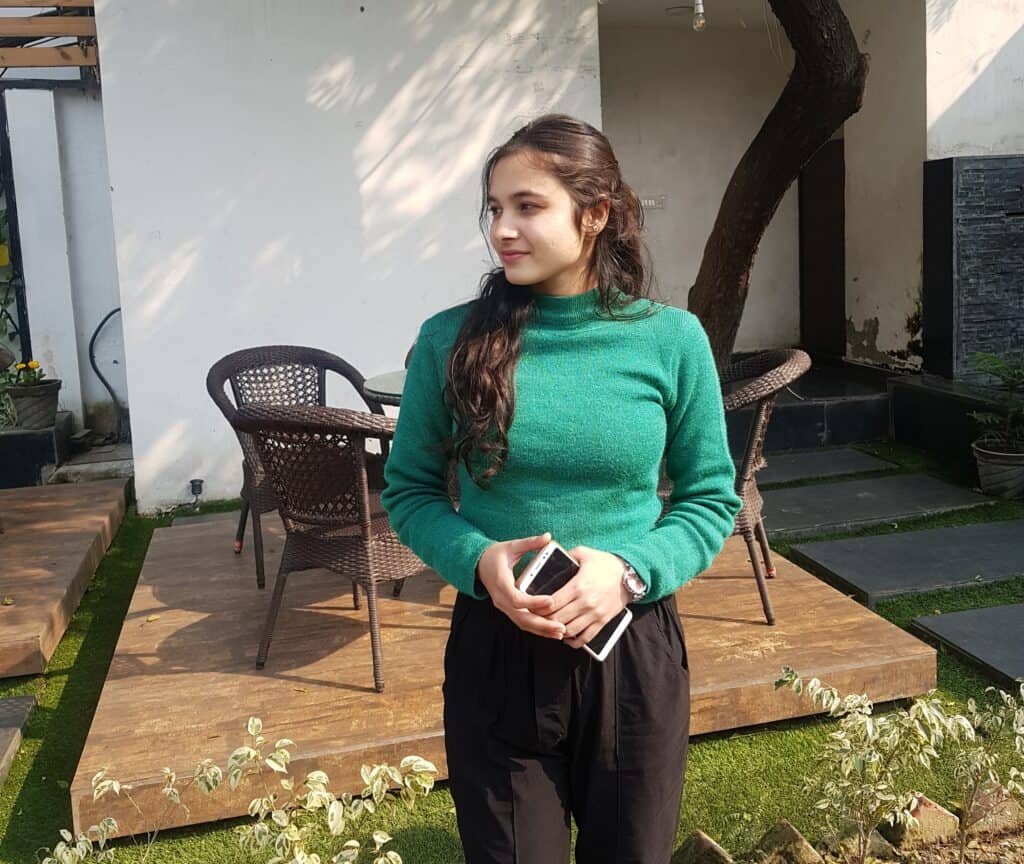 "I didn't know all the 7 strategies before the Blog Income Boost workshop, but now I got all the points Lidiya shared.
The strategy that I really liked was related to email marketing. I already had an understand of email marketing but I got some ideas from the workshop on how to monetize my list, and how to use affiliate marketing in different ways.
I'd recommend Blog Income Boost to all my friends on social media as it provides amazing strategies to monetize a blog."
- Nancy Misra, founder of MyBusinessRoute

"I already monetized my blog but thanks to Blog Income Boost, I can now implement more links to places I haven't before.
My biggest breakthrough was that I can publish and sell an eBook without creating the content from scratch. And an email marketing tip I loved is having one freebie for each category of my blog.
Whether you have a blog or are curious about starting one, this workshop will give you the boost you'll need."
- Rachel of CosmicTouchBlog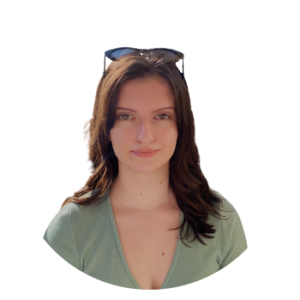 "Before Blog Income Boost, I felt like I was investing so much time and energy into strategies that aren't necessarily a priority and didn't result in new readers/visitors to my blog.
Lidiya's guidance helped me discern what I should be prioritizing as a new blogger (building a mailing list and focusing on my Pinterest).
What I loved the most about the course were the sections on Pinterest and building a mailing list with the help of a freebie.
This training helps you cut through the noise and allows you to get clear on what you should be focusing your time on. Running your own blog can be a handful, especially if you feel like you have to focus on too many things at once. But Lidiya really helps you zero in on the priorities."
- Aida, A Glass Box of Emotion
Bonuses
#1: 30 Places to Put Your Affiliate Links (without even using social media)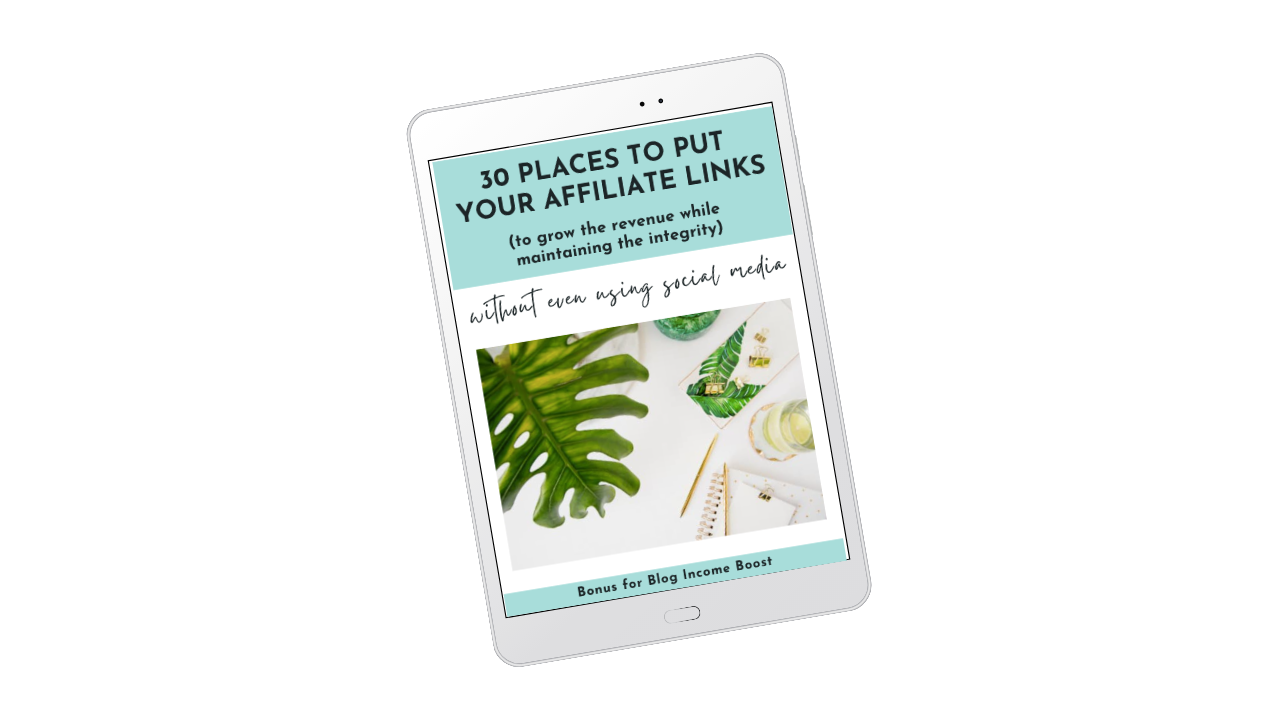 #2: Lifetime access to the workshop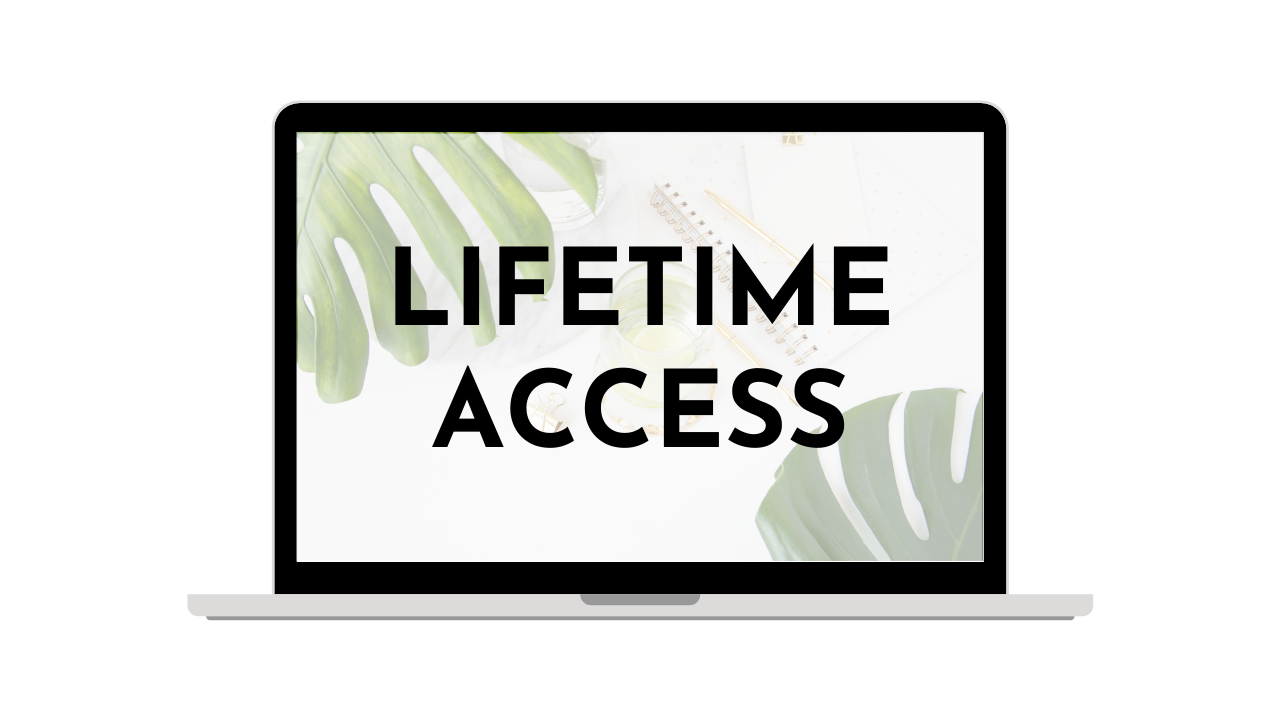 Hey! I'm Lidiya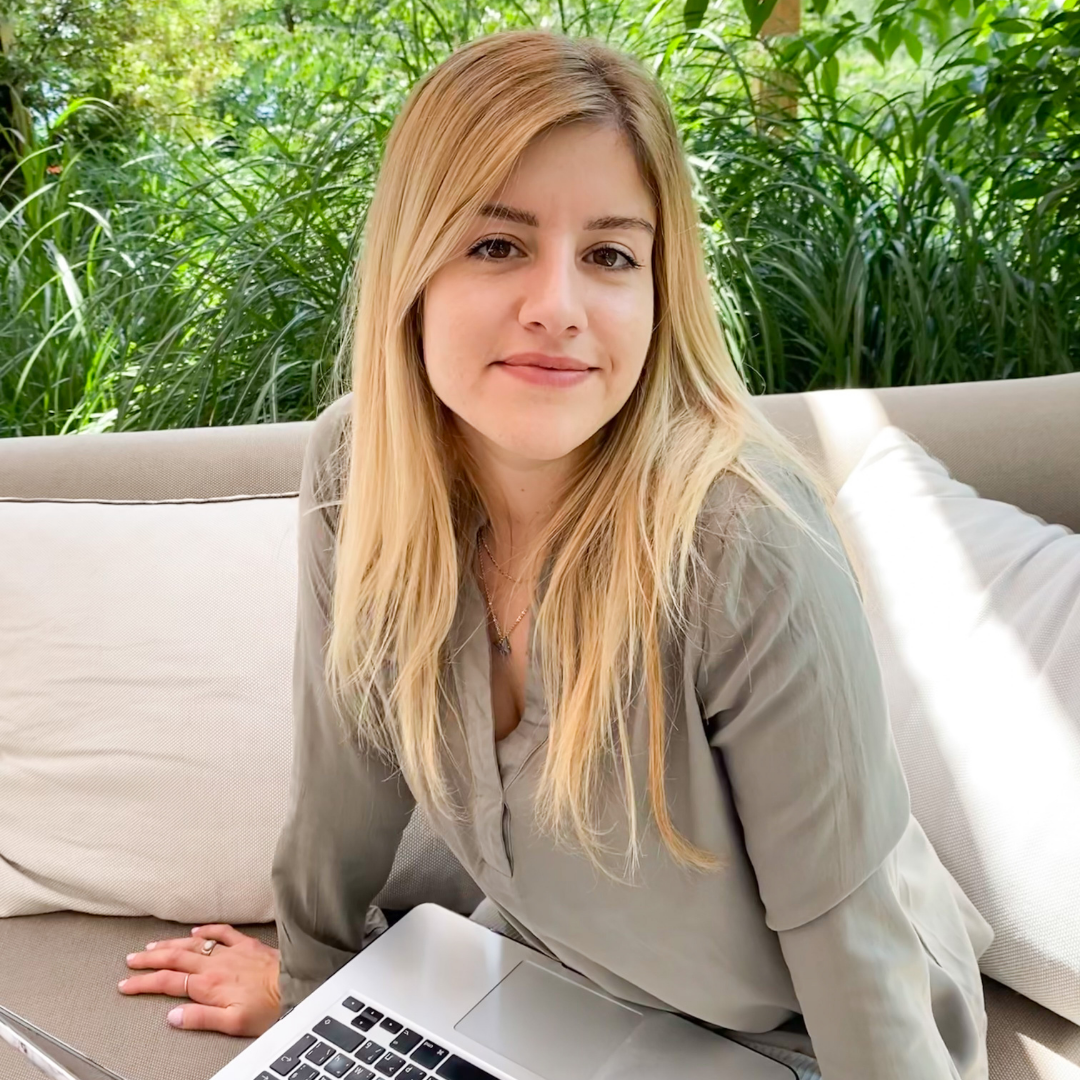 I'm a blogger, course creator and the founder of Let's Reach Success where I help badass women just like you build an abundant, value-driven business so that you can become financially free and play by your rules because this is the most powerful way to live a fearless life and serve your purpose.
I've been named one of the top 10 course creators and experts to watch in 2021 by Yahoo! Finance, been featured on TIME magazine, Thrive Global, Disrupt Magazine, and more.
With the content on my blog and the courses I create, I share the steps to ditch your limiting beliefs, unleash your potential, start that side hustle, grow it strategically, and use that income to live your best life & be unapologetically confident!
I've been in business for as long as I can remember and blogging is my jam. I can't wait to show you how to make magic with your platform too and turn it into the biggest asset of your brand and business.
Why you can no longer afford the cost of being in the same place with your blog and business?
🌿 More income = more impact. The more you earn from your blog, the more you help people in different ways.
🌿 You've already built your blog, overcome the limiting beliefs on the way and taken action. You've handled the technical part of it, you've created some content and invested a lot of time in this project. Now, it's time to reap the benefits.
🌿 Blogging is one of the best business models as it can lead to total financial and time freedom, allow you to work from anywhere, be your own boss, do the work you love, and live your best life.
🌿 A year from now, you'll either regret not monetizing strategically and look for another program to help you do that, or enjoy multiple blog income streams (most of which, passive).
🌿 Even if one of the 7 ways to boost your blog income that you'll learn about in this workshop works for you right away, you will only increase that revenue over the next year and will be more confident that the other strategies can work for you too.
🌿 Most people never see the full earning potential of the blog they started. You don't want to be one of them.
And the best part?
This training will take 1 hour of your time and is at the fraction of the cost, but can transform your blogging career.
Ready?