$1K Blogger
Build a Blog That Earns You $1,000/Month in Passive Income (While Working a Full-Time Job)
$1K Blogger is no longer open for enrollment, but you can check out my main blogging course Blog to Biz System that teaches you all you need to start, grow and monetize a blog.
What if you could earn an extra $1,000 every month while at your full-time job?
Would you use that to grow your savings, pay off your debt, work from home and spend more time with your family, start a retirement fund, travel more often, or just increase your income and feel good about it?
The possibilities are endless and we can all use that extra income to make our lives better and be less stressed.
I was once in that situation too. While I had no debt, I wasn't financially free but had so many things I wanted to do with my time instead of being limited by money.
So I began freelance writing. It took a lot of effort but that first side hustle allowed me to make my first $1000 a month, save some money and dream bigger.
However, it wasn't making me satisfied. I was exchanging my time for money and had to be on the laptop to actually do the work. Not to mention meeting client expectations was a nightmare, finding new clients involved a lot of insecurity, and I was still stressed, just while I was making money online.
So clearly that wasn't the solution.
Luckily, during that time I had also started a blog. I love writing and my passion was personal development so I combined these and started a website. I also used it as my portfolio to show potential freelance clients what content I can create for them.
I fell in love with blogging so I learned more about it. Turned out, that was a side hustle that had much more potential than freelancing and so many bloggers out there had quit their jobs to blog full-time.
And here we are today. That website I started back then - Let's Reach Success - is now an authoritative blog on Personal Development, Online Business, Finance and Lifestyle Design, gets a million visitors every year and the income from it has allowed me to never freelance for clients again, to leave my home country and move to my ideal destination, and to have a pretty comfortable lifestyle on my own terms!
And you, my friend, are no exception. This same story can be yours a year or a few from now.
You can start a blog that pays you $1,000+ every month, passively, and makes your life easier!
Making money blogging is awesome because…
You don't need any experience or technical knowledge (I show you all the steps you need to take to set up your blog in the first modules of the course)

You can create passive income streams that will earn you money while you sleep (via ad revenue, affiliate marketing, and selling digital products - all these are covered in the course in detail)

You can do all that from the comfort of your home, while your family is around you

You can have your very own project that is profitable. The more time you invest in your blog, the more this hobby will pay off and make your days more meaningful

You can pay off your student loan, mortgage or any other debt faster thanks to that extra income

You can provide a lot of value through the content on your blog and share solutions to people's problems

You can build a community around your blog of dedicated readers, fans of your work and customers that will love your products, and make friends with other bloggers in your niche

You'll gain confidence. Blogging allows you to break free from your comfort zone, use your skills and time in the best way possible, and make money from it in a genuine way

Making $1,000 is just the beginning. Depending on how serious you are about this and where you want to take it, the sky is the limit (you can double your blog income every next year if you keep investing in your website, brand and knowledge).
So, ready to become a blogger?
Introducing $1K Blogger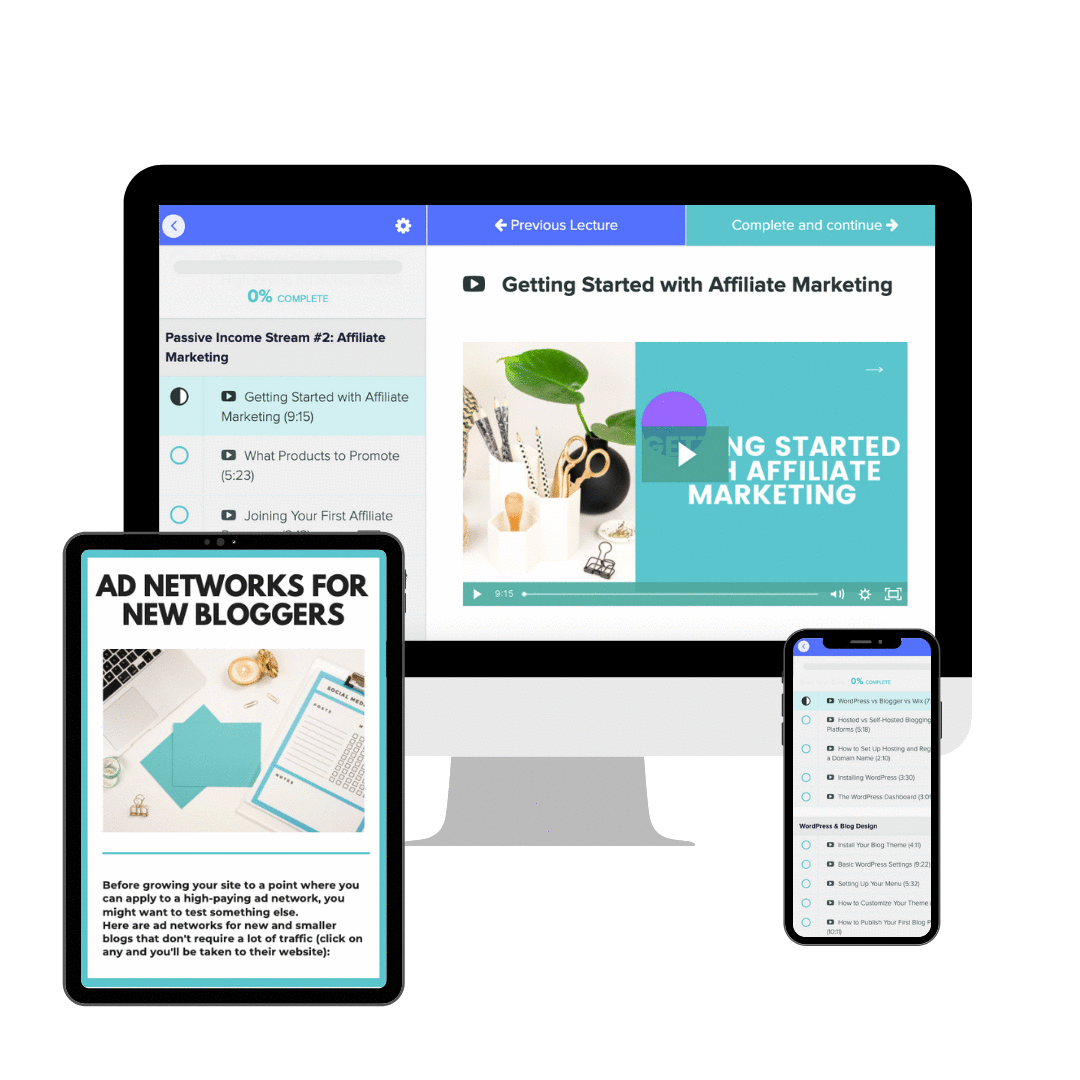 I believe starting a blog and earning passive income from it is the ideal side hustle that can bring you revenue month after month, and that's why I created the roadmap for you - to save you the need for countless hours of research, the mistakes, the confusion, the unanswered questions, the moments of wanting to give up.
I created $1K Blogger for the person who has a full-time job and is okay with it, but simply wants to earn something on the side, preferably from a project they enjoy.
I'll show you how to do not only that (by starting and growing a blog in a niche you're passionate about) but also setting systems so you can earn passive income from that website for the rest of your life.
This course will teach you how to:
1. start a blog
2. earn passive income from it
3. get to $1000
4. do it while working full-time
* Even if you don't know where to start, aren't sure how blogs make money, are no expert on any topic, and don't understand sales and marketing.
"$1K Blogger was a game changer for me."
Rachael Tanze, Broke Girls Get Fixed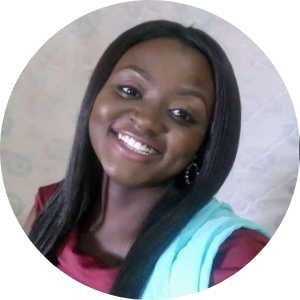 "My blogging journey took a different dimension the day I came across $1K Blogger.
I am no longer lost or confused. I know exactly what to do and where I am heading towards monetizing my blog.
I am making affiliate sales even with little pageviews, my digital products are set for sales and release come 2021 and my email list is growing.
Lidiya simplified this course it felt so easy to implement everything she is teaching. The best part about her is that she is so real about blogging and this is the number one reason you need this course.
I never thought I could understand SEO until I took this course. Within two weeks of implementing some things, I saw my Google page ranking go from 60 to 38.
My favorite part of this course is how Lidiya is always ready to help me with simple ideas when I send her an email. She shares free and easy tips that you can try and see results immediately.
I truly am yet to find a blogger who is not all about the profits like Lidiya."
What's Inside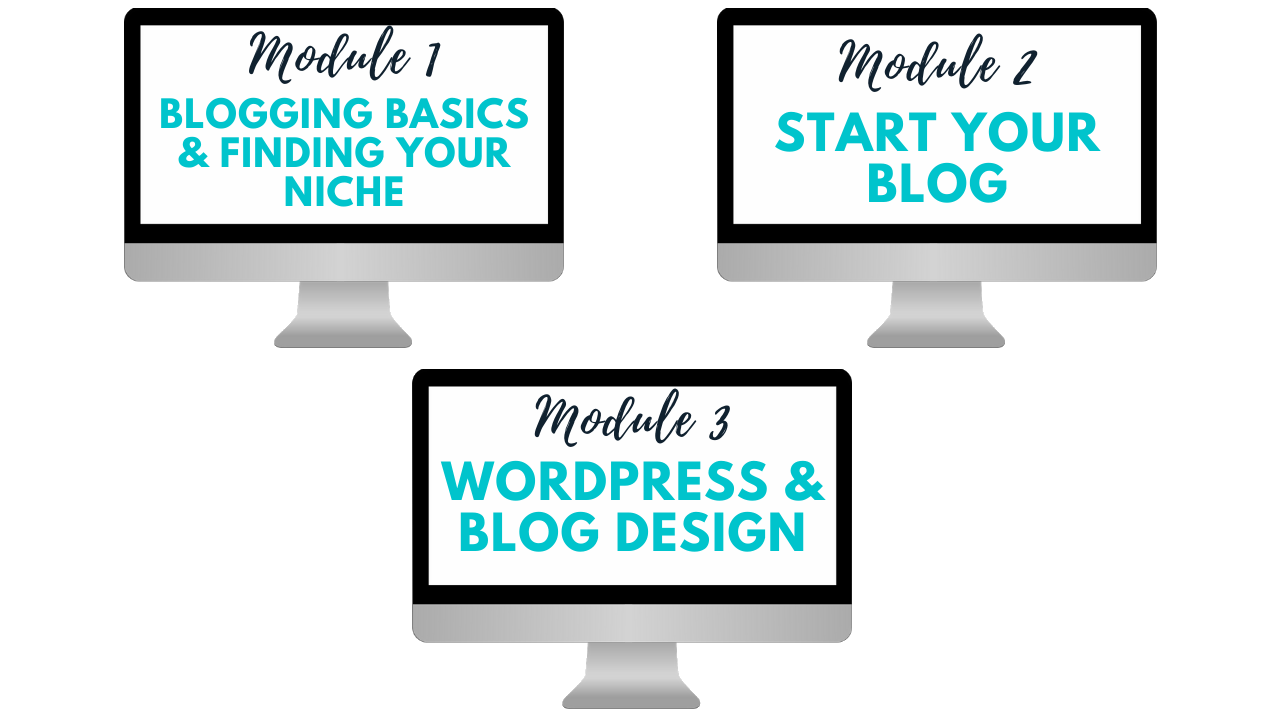 From Not Knowing What a Blog is to Launching a Blog on WordPress Like a Pro
Lay the foundation by learning how blogging works, getting in the right mindset to become a blogger, and choosing the right niche and blog name. In the first 3 modules, you'll also learn how to launch your website with the best tools out there, design it professionally and get the most out of your blog by adding features and functionality.
---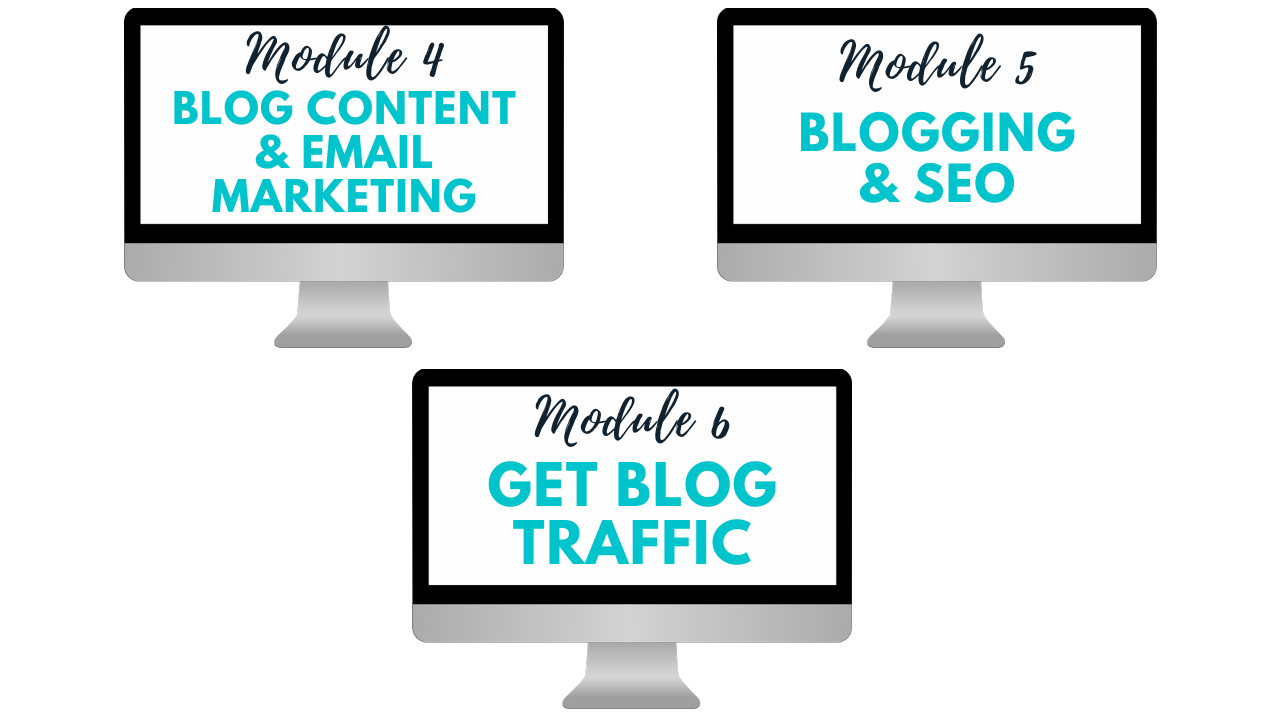 From Zero Readers to Writing Epic Articles and Getting Subscribers and Traffic to Your Blog
The next modules in the course will show you how to write content that stands out and optimize it so it can rank high on Google and bring you organic traffic. You'll learn how blogs generate traffic together with my best strategies on how to get visitors from search engines and Pinterest for FREE to grow your blog in multiple ways. Add to that the lessons on starting an email list (which will become your biggest asset) and getting subscribers to increase traffic and revenue, and your blog will have an engaged audience.

---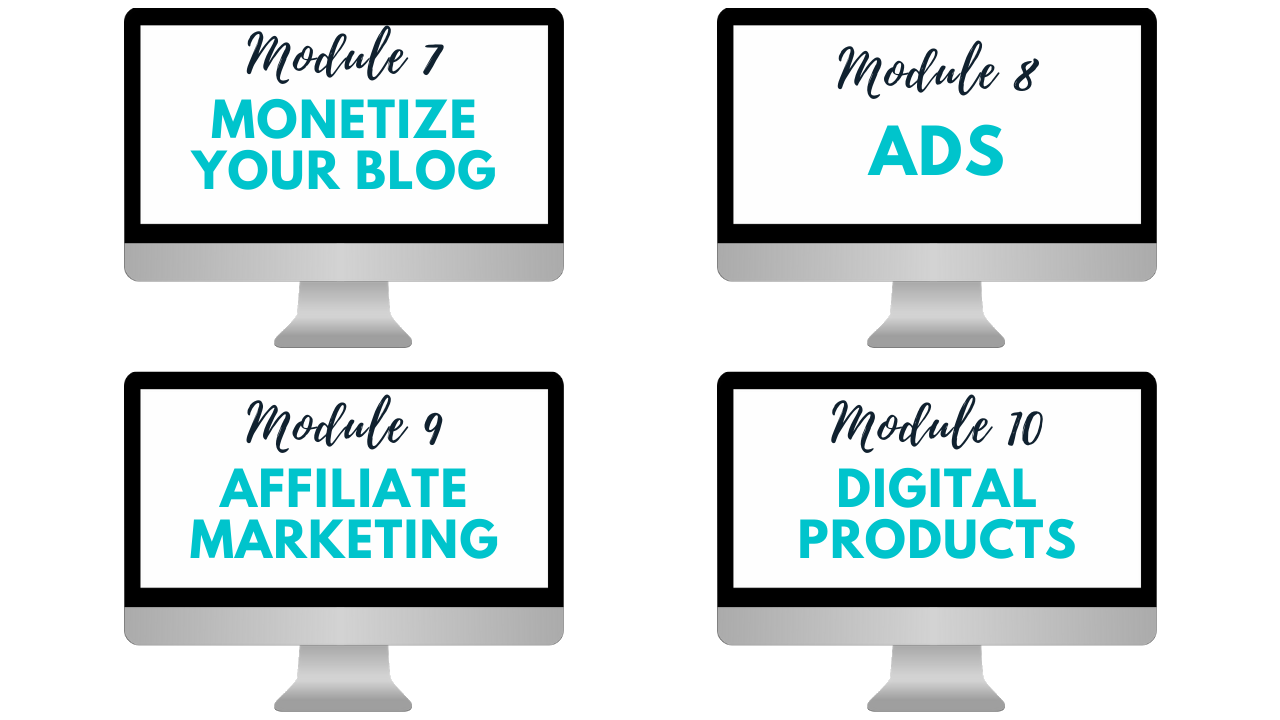 From $0 to Multiple Passive Income Streams
In Module 7, you'll be introduced to the main ways you can make money from your blog and understand more about passive income. The next 3 modules are all about each of the 3 monetization methods you'll implement to earn income from your blog passively.
You'll learn all kinds of stuff such as how to earn big commissions by promoting other people's products, make sales on Pinterest, get approved by a high-paying ad network, create and sell your own course, and go beyond $1,000/month.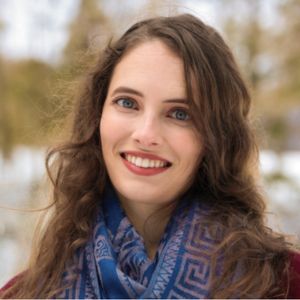 "$1K Blogger is an excellent introduction to all the different things you need to know to build and grow a successful blog.
I learned a lot from it, but the most significant part was a mindset shift that allowed me to get more done and actually get my posts written.
Before enrolling in the course, I struggled the most with consistently creating content and finding time to write on a regular basis. Now, I have a better writing process and have been able to be more consistent with it even when I'm busy, and know how to leverage my content in creating an email list."
- Clara Carlson Kirigin of Prometheus Editorial
Most Blogs Don't Make Money. Here's Why
#1: You don't actually start the blog.
Every month many people email me saying they are interested in starting a blog. I point them to some free resources I have and remind them it takes some work and time but it's absolutely achievable.
However, they look at how much professional bloggers are earning ($10K/month) and compare that to their level (not even knowing how to start a blog). That gap is too big so they get discouraged and give up.
Soon after, however, they are inspired by yet another success story of a blogger who makes a full-time income from home, and they want to start their own blog again. Until they find a reason not to do it now…
That's sad but it's also one of the many reasons why most blogs never make money. These limiting beliefs are something my readers who are beginner bloggers or aspiring bloggers are dealing with all the time, and I help them.
Investing in this course is enough to show yourself you really mean it this time!
What's more, in the very first module I talk about the lack of discipline to starting a blog and how to overcome it. I help you understand how blogging works and choose the perfect niche for you before you even start the blog, so that in Module 2 you can go ahead and actually launch it.
#2: You feel like it's not going to work.
That is something you might tell yourself, but it's only true as long as you believe it.
Many people have emailed me this exact sentence, and I get it. But also they haven't started a website yet and can't possibly know if it's not going to work.
Others might have started it but saw no traffic in the first weeks, got discouraged, and left it behind. That's normal as a blog needs to be taken care of and you need to publish content every week for the first few months and promote it so that you can see some traffic.
Luckily, I show you the exact steps to do all that in the course. You'll get to see how I drive free traffic from Pinterest and will learn all you need about SEO and how to write content that Google loves so you can rank your blog posts high in search engines and get clicks.
#3: You don't know where to start.
Here's another common struggle I hear about all the time.
One of my readers, for example, emailed me this:
'I want to make a source of passive income and I am interested in technology. I don't know where to start. But I am ready to work hard.'
My response was this:
'You can easily start a blog and write about the aspects of tech you're passionate about to attract like-minded people.
Over time, you can monetize the blog traffic with ads. You can also become an affiliate for courses or all kinds of apps and tools that you can share with your blog readers and earn a commission every time someone purchases through your links.
Later on, you can also land sponsored posts on your blog or create your own digital product (such as an eBook or online course) on the topic and sell it.
These are actually the 4 blog monetization methods.'
And because he wants passive income, he would skip the sponsored posts and work only on the other 3 ways to make money from a blog, which is exactly what this course teaches.
So, want to know where to start?
By investing in a course like $1K Blogger and following all the steps. Then, there's no way not to start.
What's more, we talk about finding the right niche and naming your blog the right way and planning out your whole game plan before you even launch the site. These are all things aspiring bloggers are usually confused about, so we tackle these before you move onto the technical part of starting your blog.
"$1K Blogger was really easy for me to understand from the very start. I'm in love with it."
Bhanu Pratap Singh Yadav, Atoms of Universe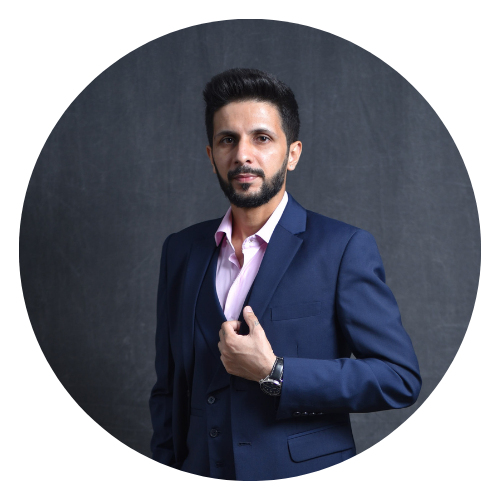 "What made me buy it is the sole reason - No BS Complications.
So many teachers out there but she's the best. A truly experienced gem of a person. Also, it's reasonably priced for such vast information & is pocket-friendly. Saves a heck lot of time & money.
Lidiya has explained each and every detail regarding how to make, grow and monetize a blog from scratch with very crystal-clear lectures. She understands exactly what people think before starting a blog & therefore boosts their confidence at the initial lessons itself.
Most importantly, she's always available one-on-one through email.
Highly recommended. Just go for it."
There's more...
Here's the bonus material you'll find in the course:
100+ BLOG NAMES & THEIR NICHES TO USE FOR INSPIRATION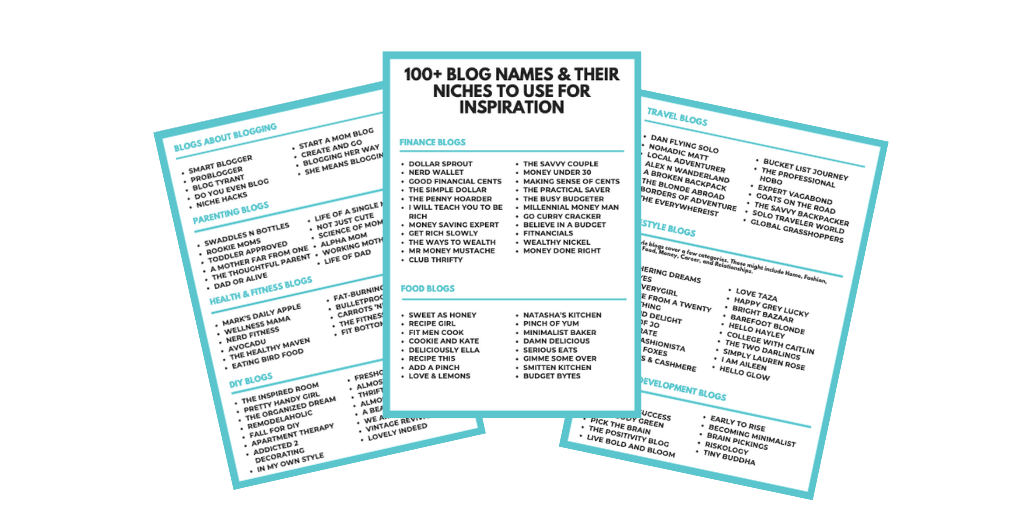 The first bonus, which you can find in Module 1, will help you get ideas for your new blog depending on the niche you chose for it.
LIFETIME ACCESS AND UPDATES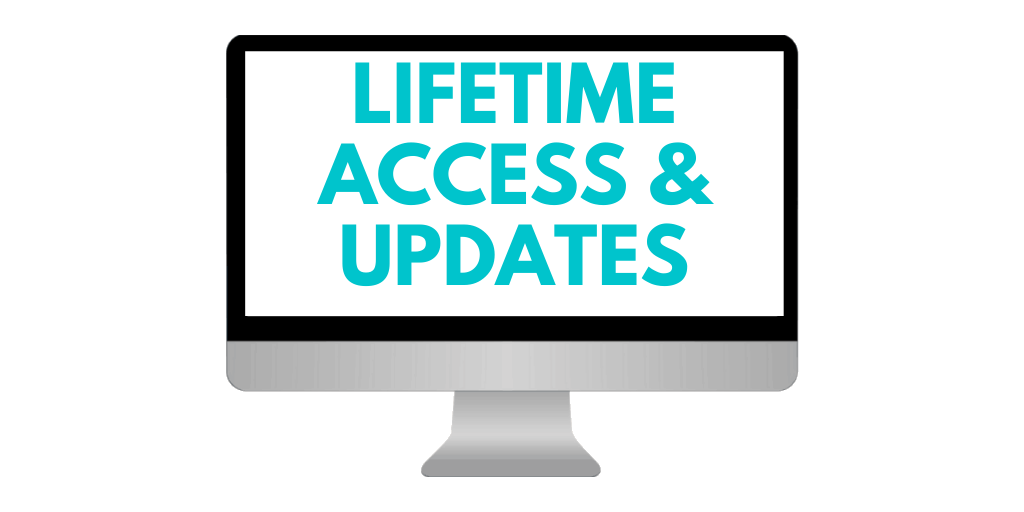 You get lifetime access to the course, which will be updated frequently.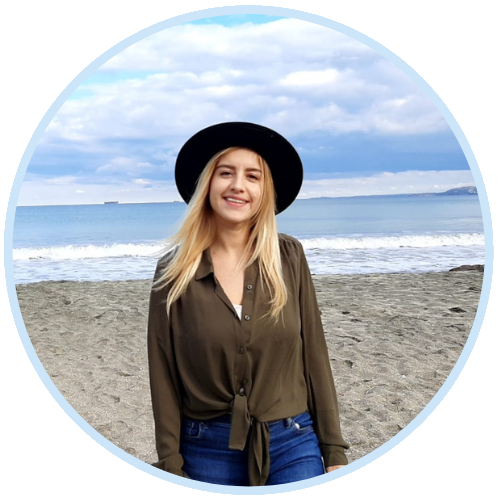 Hey, I'm Lidiya, a full-time blogger, course creator and business owner.

I started as a freelance writer but turned my passion for writing into a full-time blogging career. I'm the creator of Let's Reach Success where I help people just like you achieve financial independence through making money online so you can use that income to live your best life.
I turned my hobby blog into a 5-figure business that gets over 100K page views every month and has been featured on some big sites.
In the last few years, I've managed to become self-employed and be able to work from home (or anywhere else) and do what I love and on my own terms. Thanks to the persistence and discipline that blogging takes, I was able to become location independent and travel with my laptop, leave my home country and relocate to my dream destination. I want to help you do the same.
You too can make money blogging, and I'm here to show you how!
Who is this course for
✔ People who don't know how to start a blog or how blogging even works, but want to give it a try.
✔ Those looking to earn an extra $1,000 with an easy side hustle online like starting a blog.
✔ Beginner bloggers who want to do it right from day 1.
✔ People who've been researching the topic and thinking about starting a blog for a long time now, but never took the plunge.
✔ Those who are overwhelmed by all the info available online and just need the exact step-by-step process.
✔ People who are inspired by other bloggers online who earn a lot (either by following them, reading their income reports, or hearing about their success story).
✔ Stay-at-home moms and dads looking to contribute to the family finances.
✔ Busy people who want to earn passive income from a blog but need guidance and the right tips and strategies.
✔ People who want to travel more but can't afford it (hint: you might even become a travel blogger, document your journey, and make money on the road).
✔ People who want to pay off their debt and be financially independent sooner.
✔ Those who need a change in their life (blogging can give you a new free-time activity, new income stream, new reason to wake up in the morning, it's a whole learning experience and a challenge that makes you grow).
✔ Those who have found their passion and want to share it with the world but don't know how (starting a blog in that niche allows you to find your tribe - people interested in the same who want to hear from you).
Who is this course not for
✘ People who want easy money and aren't ready to put in the work (this is not a get rich quick scheme, it's a proven system for creating something valuable online, monetizing it strategically and earning from it for the rest of your life. But you need to follow all the steps in the course to get there.)
✘ Personal blogs that don't need to make money or build an audience. If you just want a free website and to blog for fun (that is, to simply publish content online), then this course isn't for you. It teaches you strategies to build your website but also your brand, to be a real blogger and make money in multiple ways.
✘ Advanced bloggers or anyone who's already been blogging for a year or so (this course is for beginner bloggers only).
✘ Bloggers who want to earn from sponsored blog posts. In that case, you should check out my premium blogging course Blog to Biz System that goes into detail about this.
✘ Those who want to make $5,000 or more from their blog every month (that requires strategies on a different scale and these are outlined in Blog to Biz System).
Frequently Asked Questions
When does the course start and finish?
The course starts now and never ends! It is a completely self-paced online course - you decide when you start and when you finish.
How long do I have access to the course?
How does lifetime access sound? After enrolling, you have unlimited access to this course for as long as you like - across any and all devices you own.
What if I don't know anything about blogging?
This course is perfect for beginners. It walks you through the basics of blogging as well as the hacks and tricks you can immediately start using to get traffic to your blog, grow it, build your brand and start earning your first money.
Will the course be updated?
Yes. Things in the blogging worlds are constantly changing and I'm testing new strategies, learning and researching new methods to grow and monetize a blog. As I do that, I will be going back to $1K Blogger to make updates.
All future versions of the course are free once you enroll.
Will taking this course guarantee $1K/month from my blog?
No. This is not a get-rich-quick scheme, it's a proven system for earning money passively by starting and monetizing a blog. The initial process takes time and the learning and testing don't stop even when you begin making your first money blogging. You need to take the steps outlined in the course and continue investing time and effort into your blog for as long as it takes to get to your desired amount per month.
Will I need to purchase anything else once I buy the course?
The only necessary expense related to your blog is a hosting plan. I'll walk you through the process of starting a blog with one of the most reliable hosting providers at a reasonable price (just a few dollars a month). Any other expenses are not necessary at this point but might be something you invest in once you begin earning more.
What format is the content delivered in?
This is a video course. You'll also find transcripts, step-by-step tutorials and text lectures.
Is this course suitable for me if I don't have a blog yet?
Absolutely. This course is for beginners as it shows you every single step of the preparation before launching a blog and the actual setup.
Are refunds available?
Yes. If you complete the course and take the steps but don't see results, you can email us within 60 days for a full refund. However, you also need to show proof that you actually gave the strategies covered in the course a chance, started a blog and gave it some time to grow.