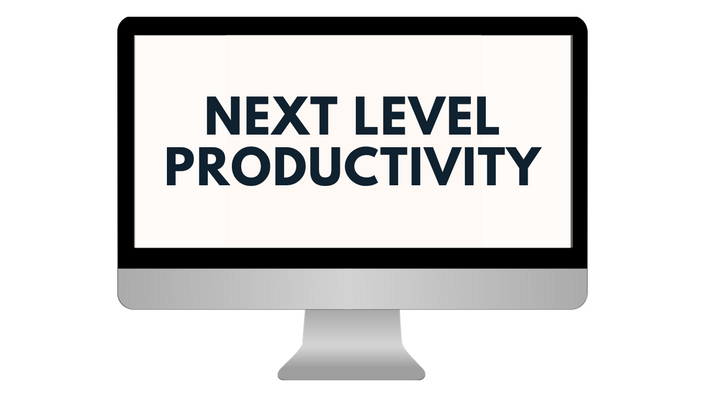 Next Level Productivity
How to Beat Procrastination Once and for All and Become Your Most Productive Self
Let Me Guess…
You wish you could complete all your tasks on time, plan your days better, and have more time for yourself to do all the things you enjoy.
You might often wish you could get things done faster, stop being distracted so easily, leave procrastination behind and just do the work and do a good job.
But chances are, you're spending half of your time doing things that don't necessarily need to be done, wasting time in small daily tasks that seem to be piling up all the time, starting your days with haste and ending them thinking what you need to do tomorrow.
But that's not how life is meant to be lived.
We can all hack productivity and double our results with less efforts.
That can happen by analyzing exactly how you're spending your time and eliminating the activities, habits, tasks and even thoughts that don't give you the outcome you're looking for.
That can happen by understanding the underlying causes of procrastination and stopping it once and for all.
By learning the main principles of productivity and starting to use some smart and easy strategies to your advantage.
And last but not least, you can be twice as productive by prioritizing, tracking everything and optimizing it until you create the most productive day possible, and begin saving time by doing less.
These are the things I cover in detail in Next Level Productivity, and much, much more.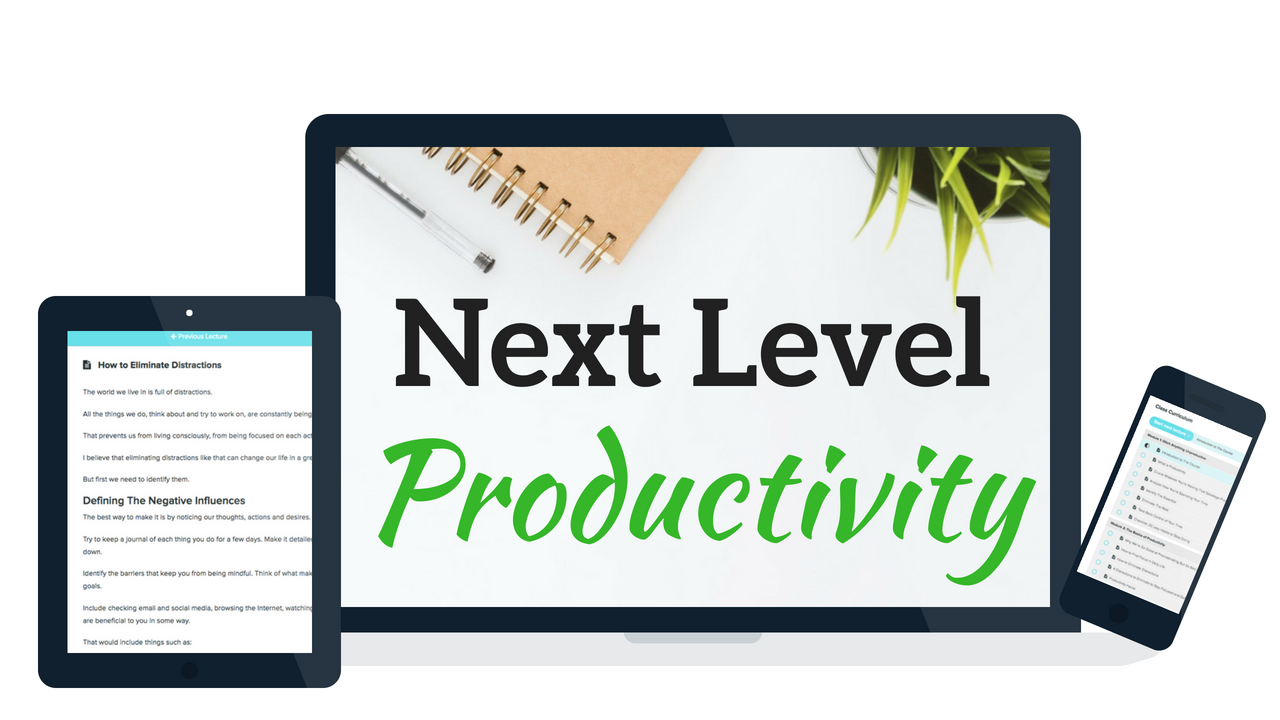 It took me 5 years of not knowing what I'm doing, reading and learning the ins and outs of productivity and time management, and hustling without much energy and focus, to finally be able to say I hacked productivity.
I've now created what I like to call the ideal day, and it's also the most productive one I can have.
Thanks to ditching distractions and procrastination, learning how to do focused work for hours every single day no matter what, making the most of my mornings, and getting more done in less time, I was able to turn my passion for writing into my career. Now, as a full-time blogger and freelance writer, I set my own working hours and focus and inspiration are easy to find.
I'm able to make over $4,000/month from my blog and business (as you can see from my income reports) by working just a few hours a day. I wake up whenever I want to and know I'll get the important stuff done.
That's thanks to some strategies I've implemented over the years. Some I learned from experts in the productivity niche. Others I found out through experimenting and a ton of mistakes.
I share it all in Next Level Productivity and truly believe this is the course that covers all you need to know on the topic without being overpriced.
Why Productivity Matters?
It's one of the main reasons I'm a lifestyle designer and managed to start making money online, travel a bit, ditch my bad habits and focus on my priorities in life. All this led to feeling accomplished at the end of each day knowing I've done some meaningful work and being truly satisfied with life knowing I have time for all the other things I love.
It's thanks to productivity that I feel free and flexible. I plan my work and days so well and at the same time leave room for anything that might come up (such as working on a new business idea, meeting a friend, working out, enjoying nature and the beautiful city I moved to, brainstorming, reading my favorite bloggers, etc.)
But It Wasn't Always Like That
5 years ago I had no idea how to manage my time and energy was never there when I needed it. Because of that, I couldn't get to work or enjoy anything I was doing.
I can say productivity is the foundation of anything else you're looking to achieve. After I made some lifestyle changes thanks to building a stronger mindset and better habits, it was the ability to get things done on a daily basis that helped me move forward.
And I wanna save you the time of researching, wondering, making mistakes, and procrastinating, and give you all the information and strategies you need.
In Next Level Productivity, I Break Down: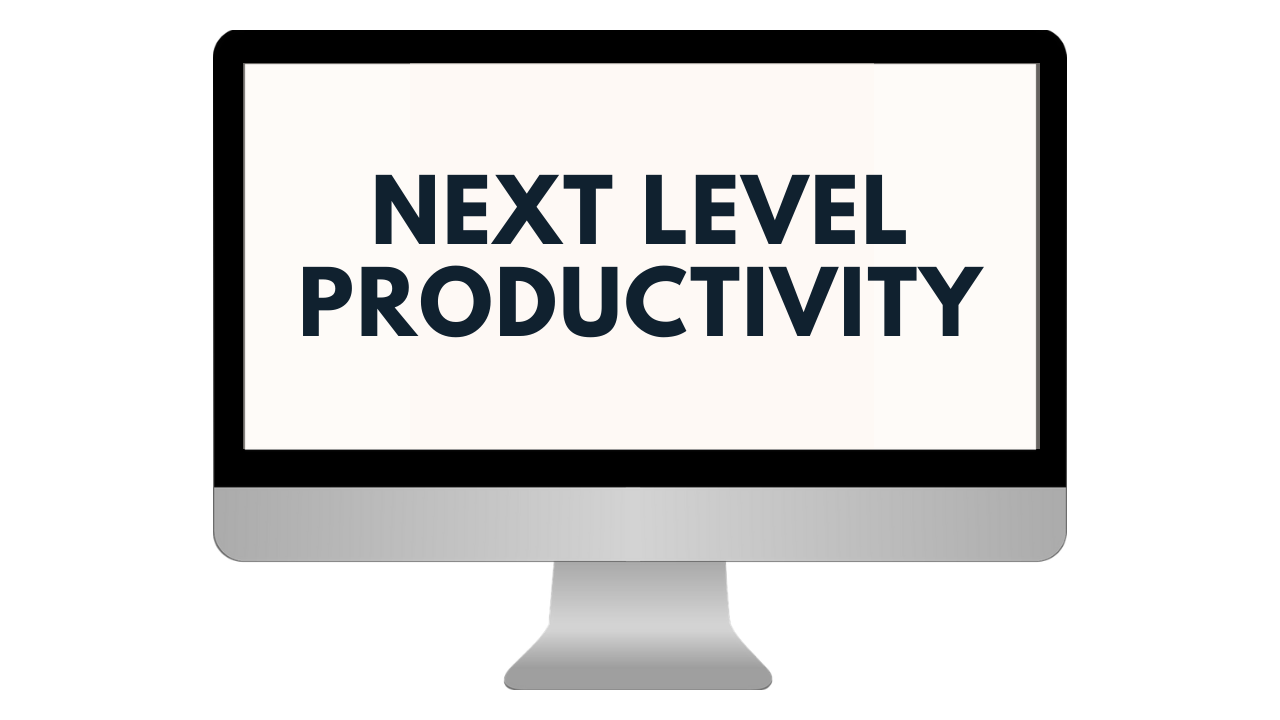 The harsh truth about what we're doing wrong that sabotages our productivity;
The main distractions in our lives and how to ditch them;
The reasons why we procrastinate and what to do about each;
The exact things I do on a daily basis that help me get a lot done;
The power of a morning routine and how to create one that will help you kickstart the day, every day;
Finding out how you're wasting time;
Tips for saving time on a daily basis and having more of it for yourself;
Strategies to get more done in less time;
Actual productivity hacks to help you double your results and boost your performance;
And much more.
I heard you like bonuses.
I've added plenty of bonuses to make this deal even sweeter.
When you enroll in Next Level Productivity, you'll also receive:
1. 101 Morning Routines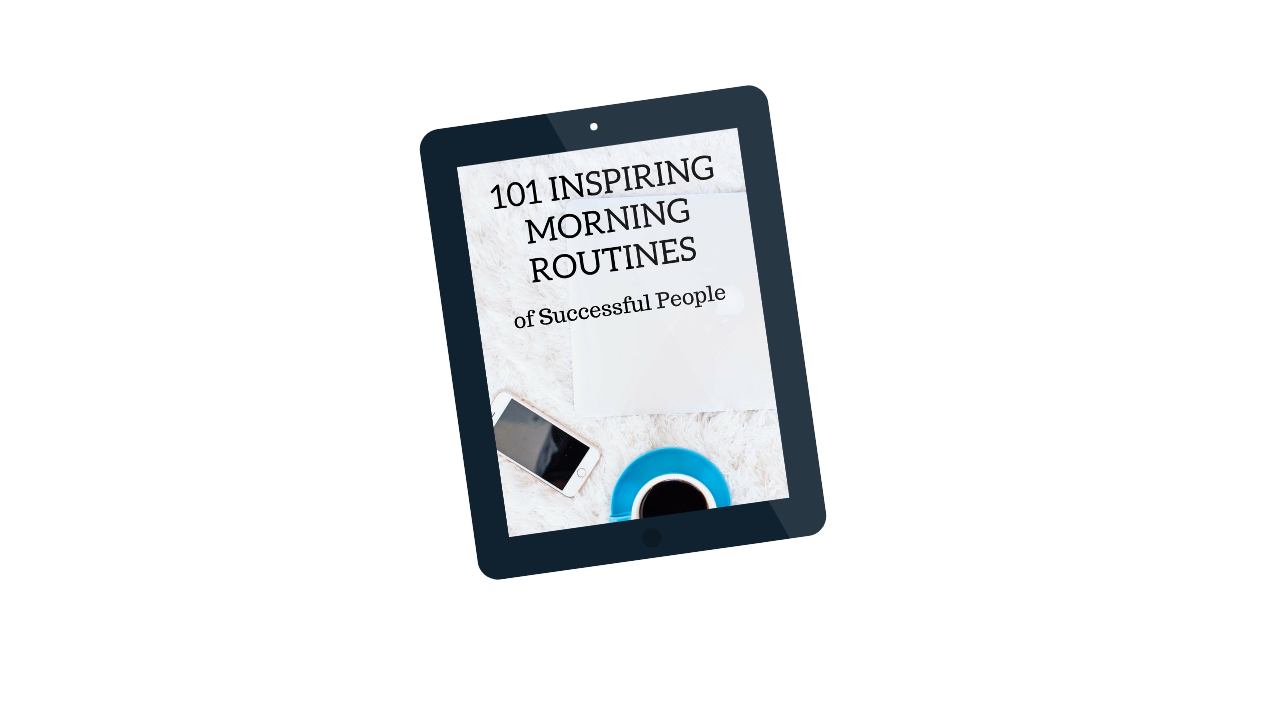 The book is a great collection of routines of famous and rich people, as well as not-so-famous and average ones. But they all have one thing in common – they're trying to have a successful start of the day and do something productive, creative, healthy, positive or successful after they wake up.
So if you run out of ideas or want to see what works best for others, that's your ultimate resource.
2. 10 Brilliant Lifestyle Changes to Make You Live, Think, Feel and Do Business 10x Better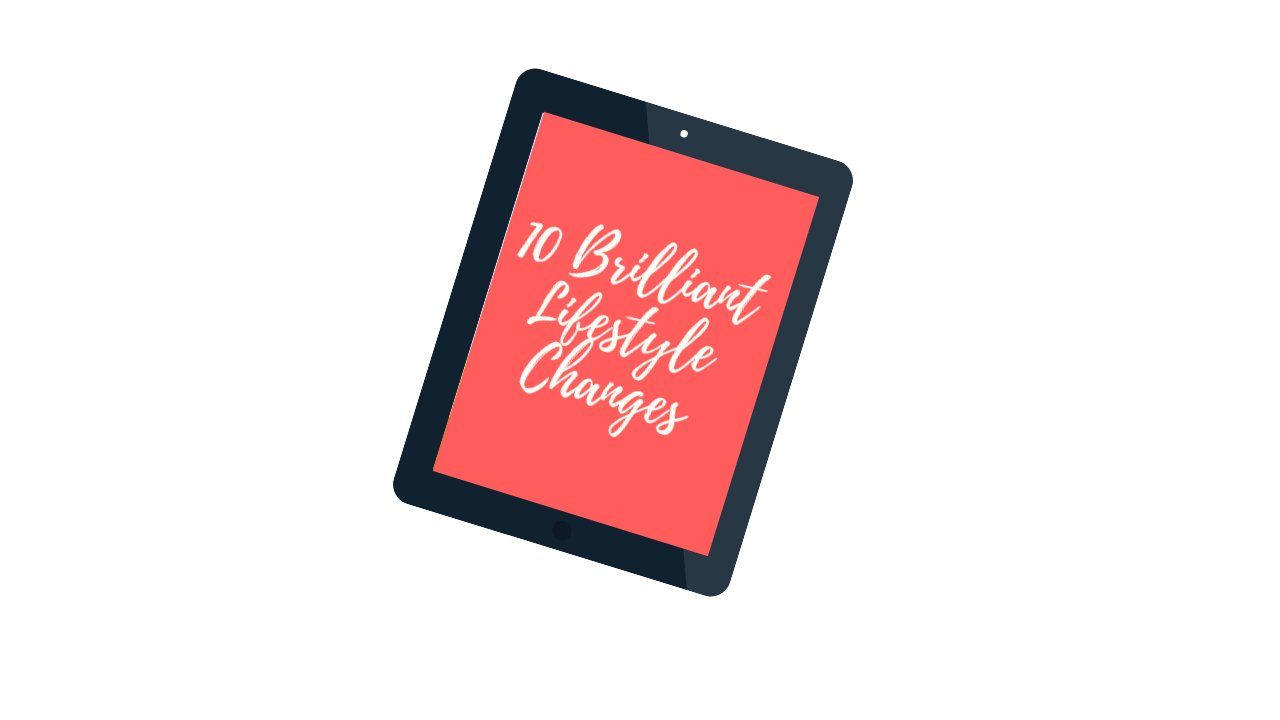 My 40-page eBook sharing how to improve different aspects of life so you can really become the best version of yourself.
I'm a life hacker by nature and with this guide, I show you how to not just get more done, but also boost your confidence, career, relationships, health, and more.
10 Brilliant Lifestyle Changes to Make You Live, Think, Feel and Do Business 10x Better is your guide to slowly getting to a point in your life where everything will be balanced, you'll keep doing your work and getting things done daily, but will feel much happier, will be more efficient, your mind will be clearer and your body in top condition, and you'll be truly satisfied with the results you get.
This course is closed for enrollment.
Who is This Course For?
Those who want to get more done
Maybe you aren't doing your best at work or don't see progress with your goals because you don't structure your days right. This course will help you find your weak points and fix them (such as the cause for procrastination, the distractions, the lazy habits).
You'll then see how you can start planning your day the night before, wake up earlier and get moving, and thus get anything you want done.
If you feel like you're always doing something yet don't achieve the results you want but end up having no free time, this course is for you. You'll learn how to ditch your unproductive activities, plan your day better and manage your time more effectively so you can save it for other things.
Want to be a freelancer, build an online business or start making money from your blog? That's great but you'll need all the focus in the world and daily dedication.
All the strategies here will help you get that. You'll especially enjoy the lessons where I share how I have energy all day when working from home, how I stay productive when doing work on the laptop, and how to win the day by doing some productive work in the early morning.
Those who want to take their productivity to the next level
If you've already made some changes in your life so you can be more productive, congrats. But still, it's hard to find focus when you lack motivation, new distractions show up at every next step of your journey, you face doubts and might not have your energy for the whole day.
That's when the right hacks and tricks come in handy and you'll learn a lot of these in the course.
What to Expect After Taking The Course
For a start, you'll be the boss of your time. Once you know how to manage it better, you'll be ruthless with it, won't waste it in meaningless activities and won't allow other people and distractions from daily life to take it away.
You'll start getting things done from the moment you wake up. Mornings are the ideal time to plan out the day, prepare mentally and get into action mode. In fact, my morning routine is the reason why I created an online business that now allows me to live the way I want.
Productivity is linked to success in every area of life. It's no coincidence that those who are in a good shape, motivated, have good relationships and start businesses, are those who manage their time well and know how to get a lot done.
You'll live consciously. Most people don't know where their time is going and their days are filled with unproductive activities. Analyzing all that and eliminating anything that's not bringing progress is the way to go to find meaning in life, make room for new things, and complete only the tasks that matter.
Less stress. Once you stop being in a hurry because of managing your time and attention effectively, you'll also stop worrying about not getting things done on time or being late. Multitasking is yet another stressor in our lives but that won't be a problem once you learn one of the main principles of productivity - how to do one thing at a time and finish sooner.
You'll be fulfilled. A productive person knows his priorities and works only on what matters. That brings meaning to any activity during the day. You'll also see progress with the right things in life and will know you're in the right direction. No more wasted time or simply moving from one task to the next without stopping to enjoy life.
Course Curriculum
Module 1: The Basics of Productivity & Clearing Your Life of The Non-Essential
Available in days
days after you enroll
Your Instructor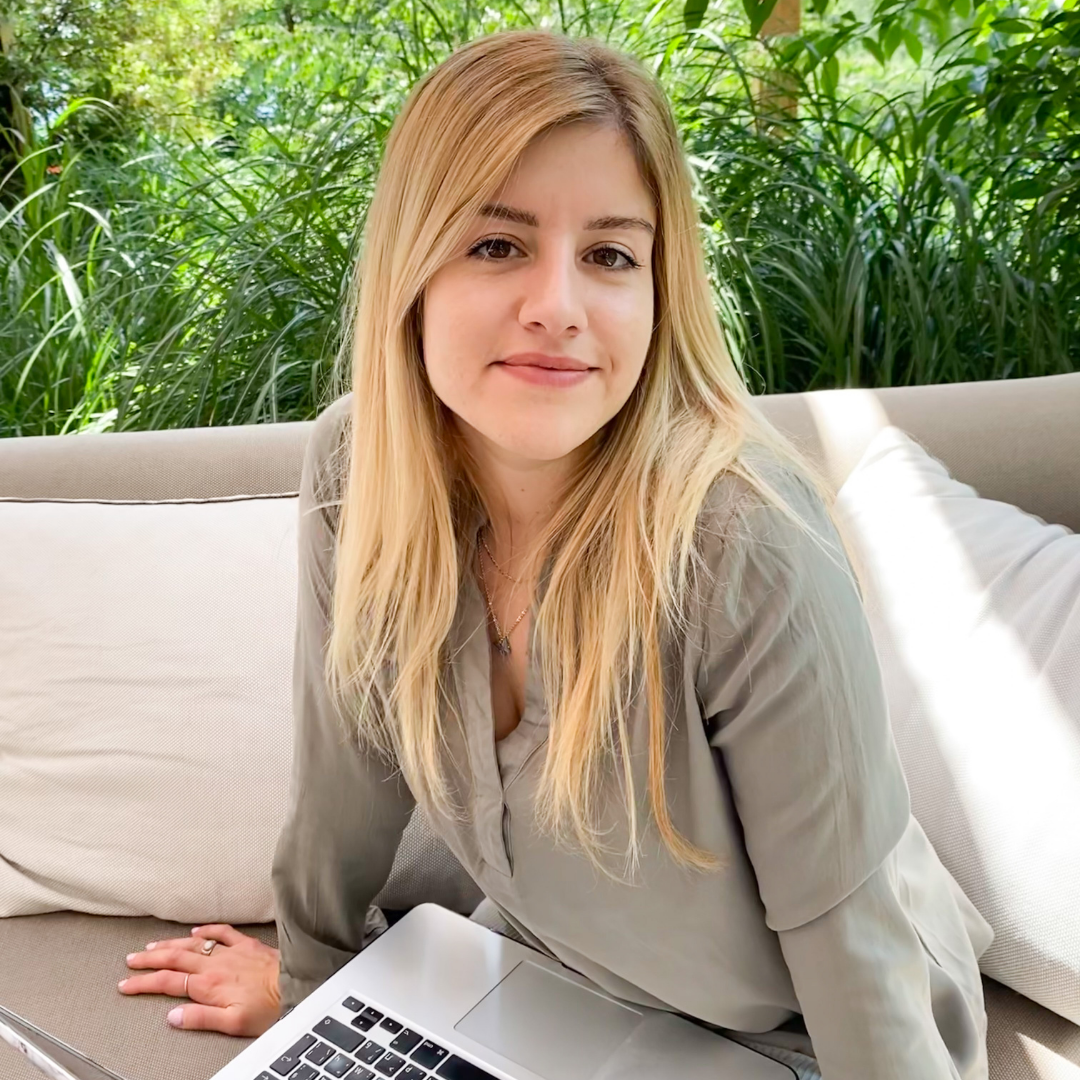 Hey, I'm Lidiya, a blogger, course creator and founder of Let's Reach Success.
I help you create an abundant, value-driven business so you can become financially free and play by your rules because this is the most powerful way to live a fearless life and provide epic value.

I've been named one of the top 10 course creators and experts to watch in 2021 by Yahoo! Finance, been featured on TIME magazine, Thrive Global, Disrupt Magazine, and more.
With the content on my blog and the courses I create, I share the steps to ditch your limiting beliefs, unleash your potential, start that side hustle, grow it strategically, and use that income to live your best life & be unapologetically confident!
Frequently Asked Questions
What if I've never read anything on productivity?
This course is perfect for beginners. It walks you through the basics of productivity and time management as well as the hacks and tricks you can immediately start using to save time and get more done.
When does the course start and finish?
The course is self-paced. You can go through all the modules in 1-3 days or you can take your time and follow the action steps in each after completing it.
Would I really have the time to implement all the strategies?
Yes. I don't see a better investment of your time right now than to master time management, so you can save yourself tens of hours on a weekly basis (and a lot of worries and lack of focus) for the rest of your life.
How long do I have access to Next Level Productivity?
You get lifetime access the moment you sign up. Access the lectures whenever you feel like, download the bonuses again and again and read them on different devices.
How is the content delivered?
This is a text-based course. You learn all you need about productivity through tutorials and downloadable PDF files.
What happens when I sign up?
Once you click the button and enroll in the course and after making the payment, you'll get immediate access to all the modules and lessons, together with the bonuses.
How long on average will it take to get results?
That depends on how soon after completing each lesson you actually take action upon the strategies and steps explained, and whether or not you stay consistent. Daily life is filled with distractions and it's easy to get excited when taking the course just to leave it all behind a few weeks later. Then, you won't get more done in less time and will keep procrastinating. It's all in your hands. I'm giving you the tools you need and all the information, and you are the one who can start using it from day 1.
Is there a refund?
Yes. If you aren't satisfied with the course, you can contact us to get a full refund in the first 30 days.
Got another question?
This course is closed for enrollment.
PIN THIS: