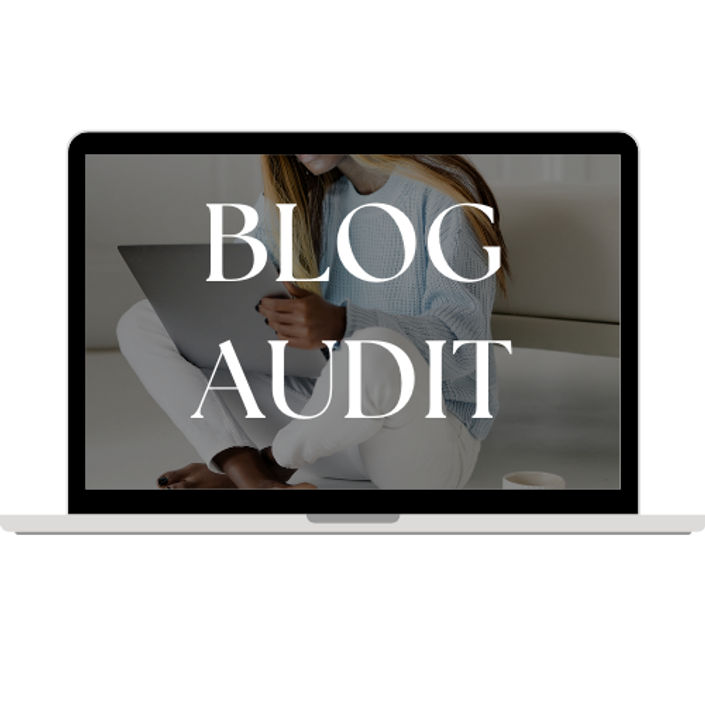 Blog Audit
Get a professional audit of your website and blogging strategy + a growth action plan
It's time to stop doing 95% of the activities and focus on the 5% that can actually GROW your blog.
Have you monetized your blog in a way that's most suitable for your niche and audience? Have you created a blog structure that makes both readers and Google love you? Is your blog design helping your website visitors take the necessary steps? Do you have a content marketing strategy in place? Have you diversified your blog income with more than 1 income stream? Do you struggle to grow your traffic?
I get it… there's a lot more to blogging than most people assume.
But the truth is, you won't turn your blog into a business until you nail all the key elements that go into it (such as traffic, monetization, content, optimization, email marketing, etc.)
Whether you're just starting out and want to make sure you build an amazing blog from day 1, or you've been in the field for some time now but are finally ready to have a solid strategy and earn from your blog on a monthly basis, a professional blog audit can turn things around for you and save you hours of research, take the guesswork out, and save you 1 more year of publishing content cluelessly and not getting any traffic and income.
What's a blog audit and how can it help you?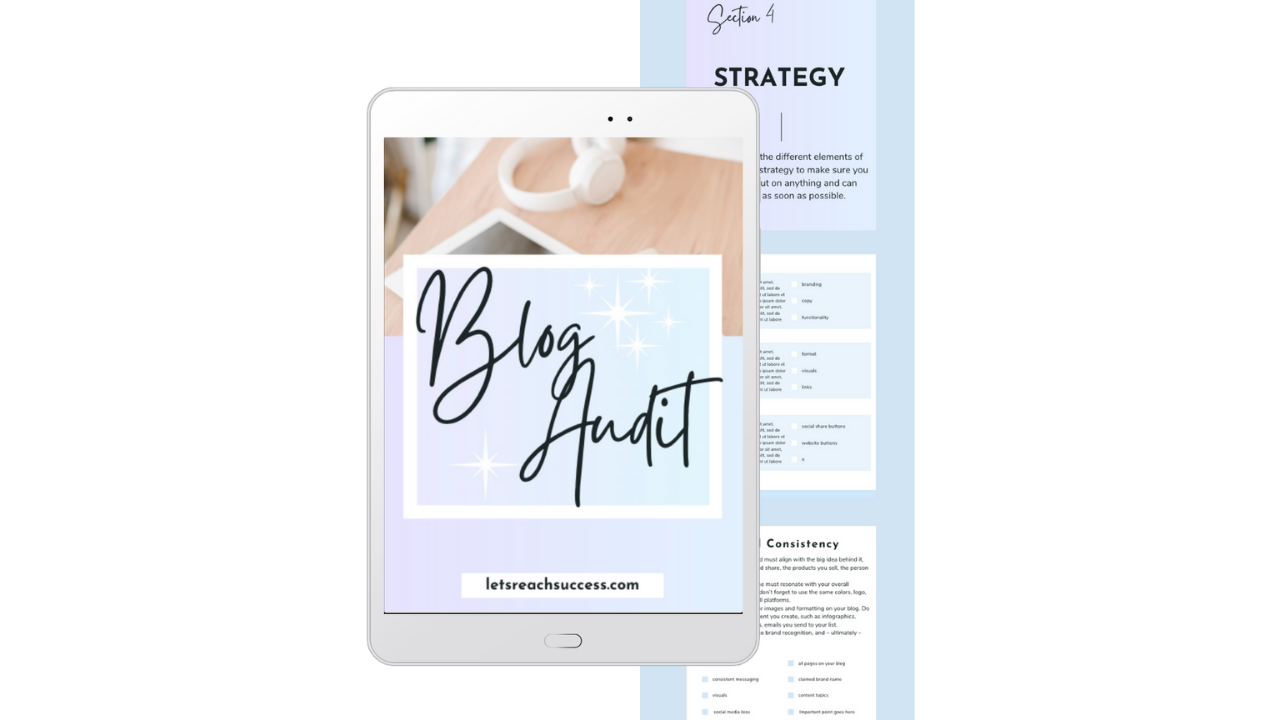 A blog audit is a review of every element on your website. What you'll get is a 60-page PDF file containing information about the most important areas of your blog as well as suggestions on how to improve and next steps to take.

The sections are:
Basics (

Let's see if your blog functions correctly and gives a good first impression.

)
Branding (This one is about

brand identity + brand consistency.)

Blog Design (Every element on your blog plays a role and is part of the user experience and related to how much traffic you get and income you earn. Here, we'll see if everything's in place, looks and feels good, and is effective.)
Strategy (

Learn if the different elements of your blogging strategy - such as goals, audience, content, traffic, email list & offers - align to make sure you don't miss out on anything and can monetize as soon as possible.)

Content (I'll go through your single blog posts + overall content strategy and help you take your content marketing to the next level and create content that attracts your ideal reader, is optimized well and is part of a sales funnel so you can form relationships and grow your audience.)
Optimization (

In this section, you'll see how optimized your blog is already and what you can do to make it load faster and perform better.)

Traffic (Another big component of blogging is traffic. This section is about your current metrics, understanding how the different traffic sources work and how to increase each).
Monetization (Here I review your existing monetization methods and give you the next logical steps to take + share a list of more ways you can start earning from your blog right now.)
Email Marketing (

Next, I review your email marketing strategy. If you don't have an email list yet, I'll outline what you need to get started and how to use it to grow your blog traffic + income.

)
Growth Action Plan (The final section of the Blog Audit is your Action Plan, where you'll find a 7-day plan on how to fix the biggest issues with your blog + optimize it, followed by a 3-month step-by-step plan to grow your audience and income.)
After the blog audit:
You'll feel at ease knowing you're working on the right things

You'll know what it is you've been doing so far that has been preventing you from ranking your posts higher, turning visitors into subscribers, and more

You stop doing most of the things you've been doing up until now (and which weren't getting you closer to your goals)

You'll have a professional looking website that readers, brands and search engines can trust

You'll know what the best ways to monetize your blog are, which one to start with, and how to diversify your income

You'll see if your current blog goals make any sense and will have a realistic yet powerful blog growth plan

You'll start treating your blog like a business and be taken seriously in your industry

You'll stop wasting hours looking for the perfect email marketing provider, SEO strategy, and homepage design.
From the detailed PDF, you'll get answers to questions like:
Am I posting often enough?

Am I in the right niche?

Am I optimizing my articles well?

What social media channel is right for me?

Am I ready to monetize?

Have I created the right freebie for email subscribers?

What product can I create first?

In what other ways can I earn from my blog content?

Have I included the right elements in my menu, footer, on the homepage, etc.?

What should my next move be?

How can I make my site load faster?

Am I promoting my services/products right?
And much more.
The truth is, most of the blogging activities you're doing daily might lead to absolutely no results.
Most of the tasks on your to-do list can actually be getting you further away from reaching your next income goals.
Let's make things simpler. Let's stop doing anything that doesn't help you get traffic, email subscribers (the right ones!) and revenue, and instead double down on the few things that can help you 10x your results.
It's time to go from a hobby blogger to a pro blogger and I'll prepare the action plan for you.
Ready to dive in?
SNAG 1 OF THE 10 SPOTS AVAILABLE FOR NEXT MONTH 👇
What clients are saying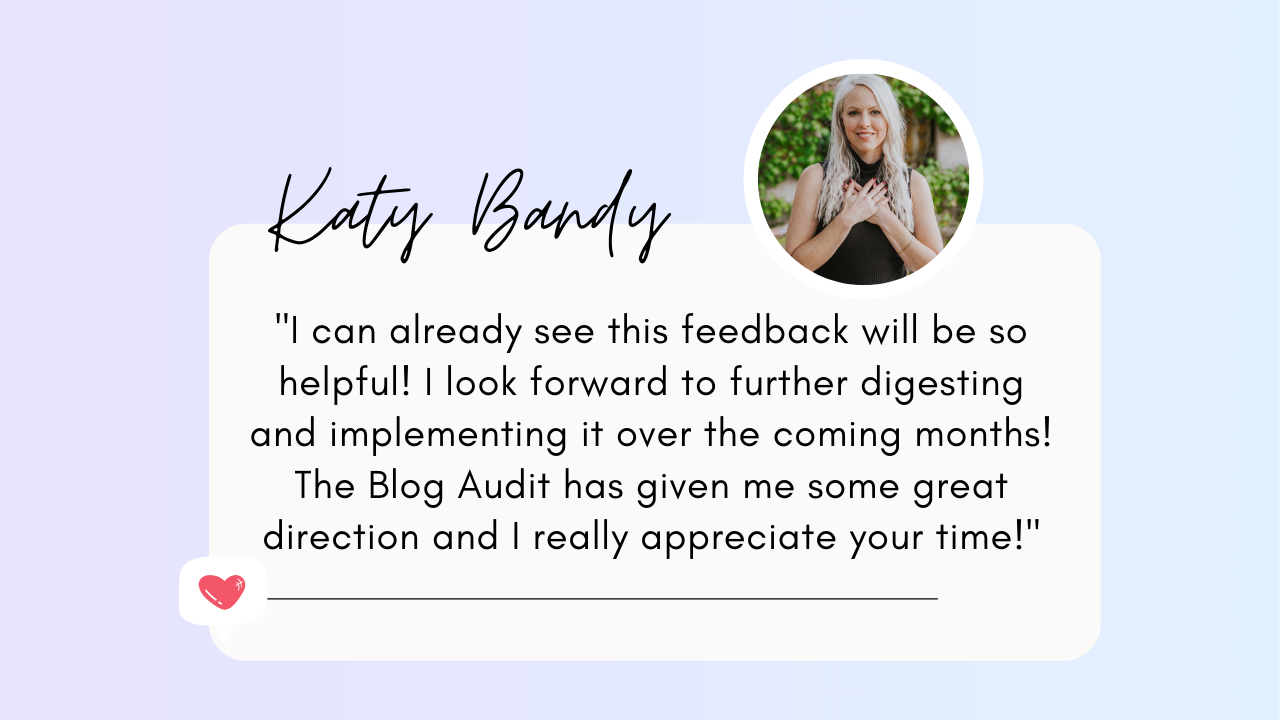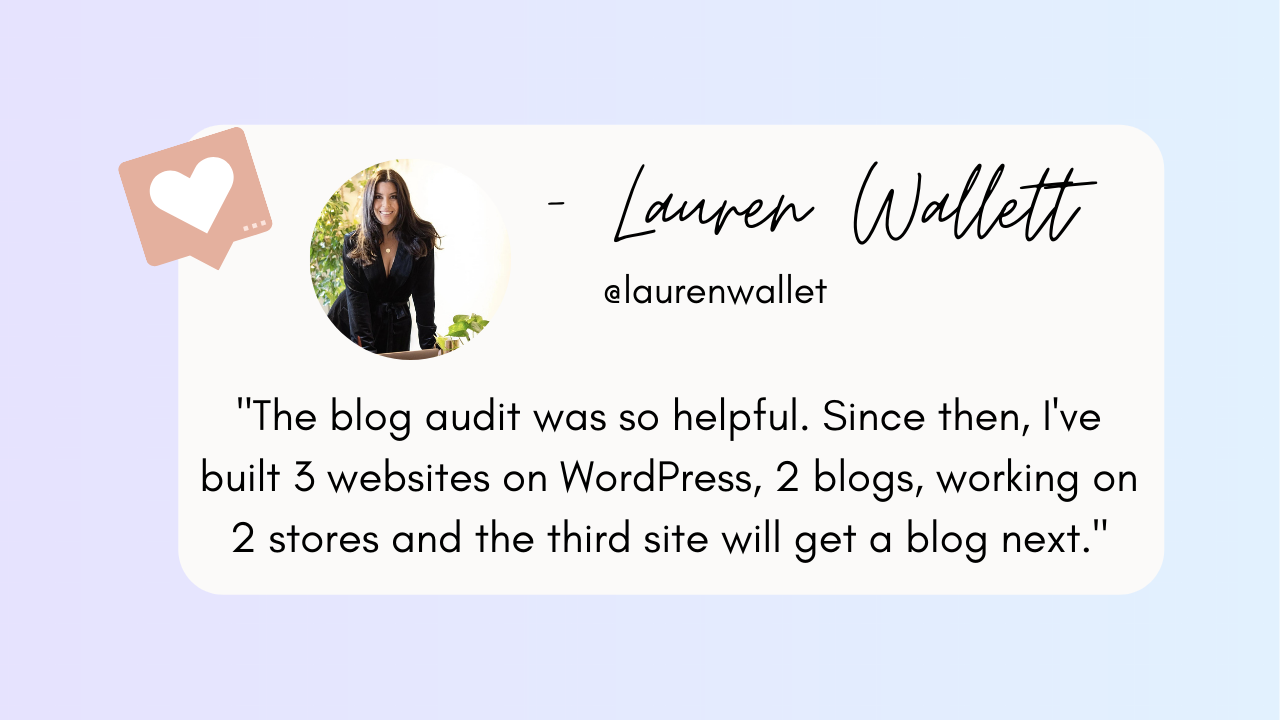 Who's the blogger behind this?
You might be wondering, 'What makes her qualified enough to review my blog and decide what the best strategy for me is?'
So let me share my story.
Back in 2013, I started a self-improvement blog called Let's Reach Success.
I wasn't tech-savvy. I didn't know anything about blogging. I didn't know this could turn into a profitable venture. English is my second language. I had no money to invest in expensive programs. And no one else in my life was doing anything similar.
What I had was a desire to write, a lot to say, and an idea of what my niche is - personal growth.
So I was hobby blogging for the first 2 years (using a domain I didn't even own) and learning more about the industry. Meanwhile, I was using these articles as my portfolio to do freelance work for clients (this was my first step to earning an income online and getting a glimpse of the self-employed life).
After that, I decided to take the blog more seriously, learn ALL I can about this business model, and to one day become a full-time blogger.
I started using better tools, writing better content, building a name for myself, getting more traffic, growing my readership, monetizing in different ways, and much more.
Later, I replaced my freelance income with my blog income and doubled down on what I love the most - creating content for my own platforms.
Here are some fun milestones that I hit over the next years:
Contributing an article to TIME magazine

Creating passive income streams

Having many of my articles rank #1 in Google for the specific keyword phrases I targeted

Earning from my blog in 4 different ways

Earning $50K a year as a blogger

Getting over 100,000 page views in one month

Interviewing self-made millionaires on my blog and sharing their story

Having regular $5K months and working minimum hours

Building an engaged audience

Earning over $1000 from a sponsored collaboration with a brand

Being named one of the top course creators and experts to watch in 2021 by Yahoo! News
But that didn't happen smoothly. I wasted a ton of time. I learned a lot from different sources and mentors and not all of it was useful. I took courses. I experimented and learned from experience.
Each income stream took me years to build. I started with no traffic and didn't even know it was possible to earn from my blog, so there were big mindset shifts I had to make prior to creating a blogging strategy.
I've tried different niches, hosting companies, tools, marketing strategies, posting schedules, social media platforms, etc.
I've used all design elements under the sun, changed the looks of my blog multiple times, accepted guest contributors, published eBooks and online courses, experimented with all kinds of freebies and offers, and so on.
But you don't need to go through the same. I now love using my experience to help others cut the learning curve in half and get to action!
I heard you like bonuses...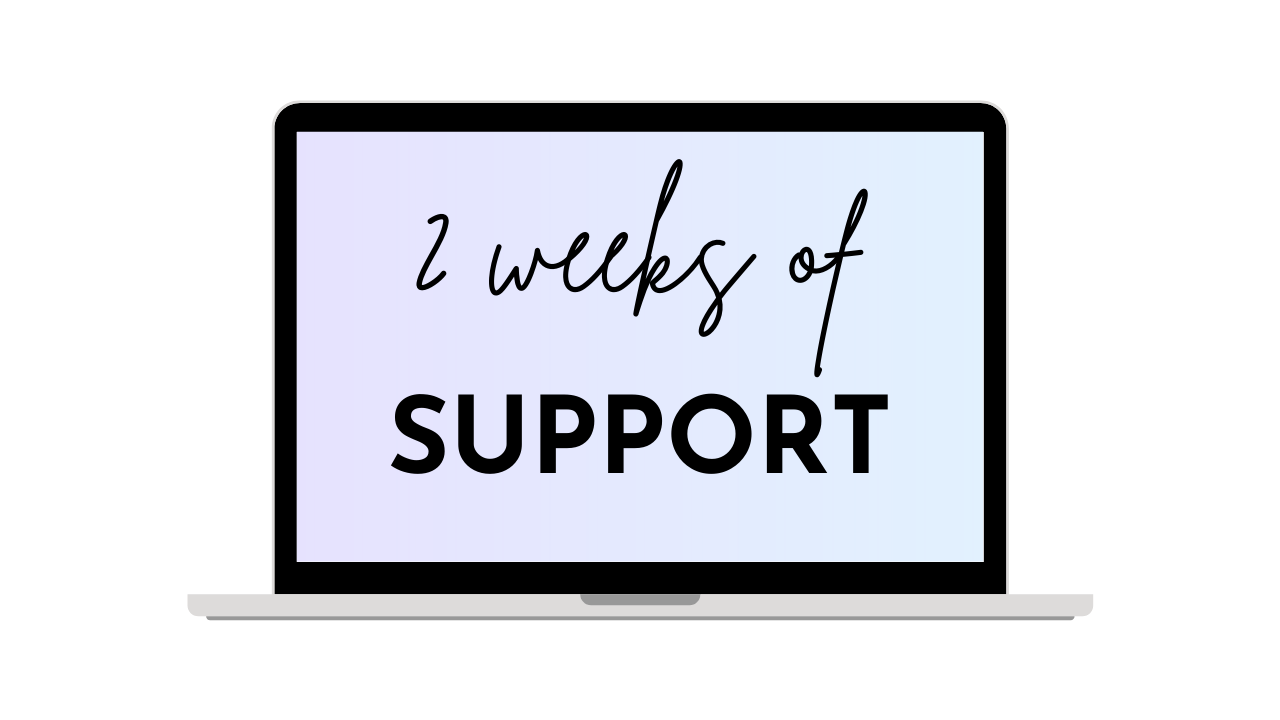 Once you purchase the Blog Audit, you also get 2 weeks of support (via email or DMs).
The 2 weeks begin once you receive your PDF. You can then ask any further questions as you apply the tips and steps you'll find inside.
Ready to tackle all these aspects of your blog so you can triple your traffic and income? 👇
PS, Available for 10 bloggers only to ensure high quality.
Hey! I'm Lidiya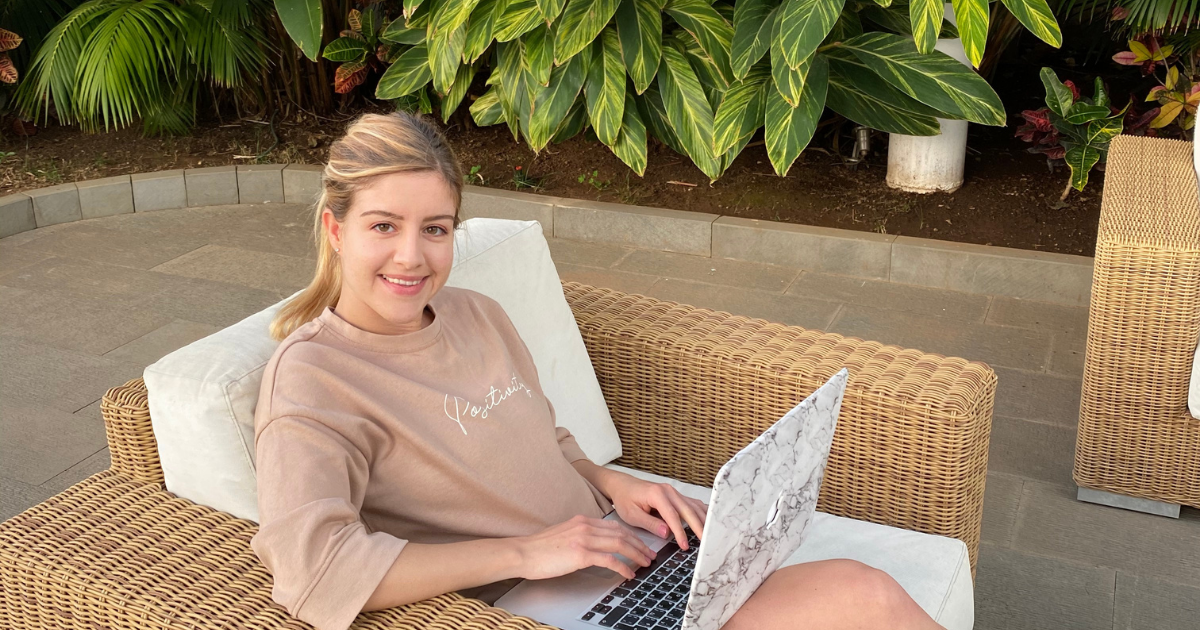 I'm a blogger, course creator and the founder of Let's Reach Success where I help badass women just like you build an abundant, value-driven business so that you can become financially free and play by your rules because this is the most powerful way to live a fearless life and serve your purpose.
I've been named one of the top 10 course creators and experts to watch in 2021 by Yahoo! Finance, been featured on TIME magazine, Thrive Global, Disrupt Magazine, and more.
With the content on my blog and the courses I create, I share the steps to ditch your limiting beliefs, unleash your potential, start that side hustle, grow it strategically, and use that income to live your best life & be unapologetically confident!

All Sales Are Final
Because I personally go through your website and anything you've done as a blogger so far, and invest hours to review each element, come up with your next steps and create a personalized growth plan for your blog, there's NO REFUND POLICY.
I only want to work with people who are serious about growing their blog, can follow instructions and are NOT looking for a way out before they even begin.
Once you receive the PDF file, you get lifetime access to it. This isn't an online program that you can lose access to. This is work done specially for you and your business, using my professional experience of having been in the blogging industry for 7 years now.
If you just want to buy to see what's inside the Blog Audit, don't bother. This isn't for you. But if you're committed to becoming a full-time blogger and ready to dive into the PDF once you receive it, then this is for you. In fact, this Blog Audit alone can save you hundreds of hours of research, making mistakes and changing directions in the next years.
With that being said, all sales are final. That's because this offer is so exclusive and the PDF you'll receive contains such powerful information, that once seen/used, it can't be unseen/unused (meaning, you will have received far more than what you paid for).
Frequently Asked Questions
What format is the content delivered in?
You'll receive a PDF file with all the information about your blog so you can start growing it.
What happens once I purchase?
1. You purchase and get an email from me right away with the next step.
2. You fill in a questionnaire (with info about your blog and your goals).
3. I receive your answers and get to work.
4. I let you know when to expect your Blog Audit (the PDF file that I'll prepare for you). This can take between 2-4 weeks depending on how many other orders there are.
Why did you create this product?
Because people from my audience have been asking me to check out their blogs since I can remember. They want to know if they're doing things right, if they monetize in the best way, if their design and user experience are on point, if they have the most optimal blog categories, if their articles are optimized well for keywords, and what next steps they should take to have a blogging strategy and increase their traffic and income.
That's too much to answer in 1 email or DM, so I decided to release this unique offer for those who are serious about taking their blog to the next level. As my time is limited and this kind of work requires my undivided attention, energy and expertise, I only want to audit the blogs of those who are ready to make the investment RIGHT NOW, which also means they will actually go through the PDF I'll provide and - most importantly - will follow my tips, recommendations and next steps.
Why a Blog Audit instead of a course or coaching?
Because I want you to stop changing the design of your blog every week, wait till you have a lot of traffic before you monetize, or have decision-fatigue and not post any new content because you don't know which direction you're going.
A blog audit is the perfect way to work together as you don't need to invest weeks to go through a course, work with different coaches, or wonder if you're on the right track.
The personalized PDF file I'll provide will have all the answers and will help you have a solid action plan for the growth of your blogging business.